Sorare is a Blockchain fantasy soccer game which runs on Ethereum – it combines elements of fantasy soccer with card collecting and it's becoming very popular.
For a long time soccer card collector, like me, this new concept of collecting and investing in cards digitally has made me wonder if this is the future of the sports card hobby.
Players buy and collect digital player cards (also known as an NFT), trade with other players and compete in tournaments and leagues where they can win thousands of dollars.
All the player cards on Sorare are NFTs, meaning they are limited in supply – there is a set number of each player card that will ever exist (all are individually numbered) which makes getting the most sought after players very rewarding.
Each season, cards are minted based on 4 different levels of rarity, distinguishable by card design, with the following amount of cards created at each level for soccer players:
Limited: up to 1000 cards minted per player per season

Rare: up to 100 cards minted per player per season

Super Rare: up to 10 cards minted per player per season

Unique: 1 card minted per player per season
Despite new versions of player cards being created every season, cards from previous seasons do not expire.
In early 2021, Sorare has had a spike of interest after popular sports card investor, Gary Vaynerchuk, bought a unique 1/1 Joao Felix digital card for around $22,500.
User growth on the platform accelerated very quickly during the rest of 2021.
Sign up to Sorare here and you'll receive your 10 free common player cards and receive an extra sign up bonus.
When you first sign up to the Sorare platform, once you complete all the steps in the initial set up, you are given 10 free common cards to get you started.
The initial set up steps include:
Picking a team name and logo.

Entering your first rookie league (this is reserved for new players/collectors who can use their common player cards).

Selecting your team of 5 players from the collection you have so far – at this point it will be just the 10 free common cards you received to choose from.
When you're selecting your first team of 5 player cards, pick the players who are likely to play in their games in real life soccer as they can only earn you points if they are playing… I'll talk more about the points system later.
Your chosen team must include 1 goalkeeper, 1 defender, 1 midfielder and 1 forward, plus a sub which is either an extra defender, midfielder or forward – this is your choice.
As I mentioned just now, new players and collectors are entered into a starter/practice league, called the Rookie League, where the free common cards you receive after signing up can be used to play.
It gives new Sorare players a chance to explore and learn how the fantasy soccer game side of the platform works – new players can enter the Rookie League for their first 8 game weeks.
Depending on the performance of your team, you can earn rare player card rewards to add to your collection and use in future leagues/tournaments – they can also be sold on the platform's market to other players.
As you start building your collection of limited, rare or super rare cards, you can enter teams into weekly competitions to compete for prizes.
Every week, Sorare hosts a variety of different tournaments which are all free to enter, but have different entry requirements. The requirements include things like player age caps, nationality or leagues that the players are from or rarity of the cards within the 5 player team.
Eligibility for a reward changes each week with the 'dynamic' rewards system. The higher you finish in a competition, the better the rewards will be. The rewards also differ depending on what competition it is – every week the prize pool is visible to players to see what can be won.
Sorare Player Points And Scoring Matrix
Performance of your 5 player teams in Sorare tournaments are based off of the players real life performance in their soccer games. 
So the better a player plays in real life, the more points they'll score on Sorare – that is why I said earlier that it's better to pick a team with players who regularly play for their real life teams.
Sorare have partnered with Opta, who are the main soccer data provider, to track real life performance of players.
The player score is determined and calculated by positive and negative impacts during a real life game. 
Positive impacts include for example:
Goals

Assists

Penalties won

Last-man tackles

Goal-line clearances 

Penalty saves (goalkeepers only)
Negative impacts include for example:
Red cards

Own goals

Penalties conceded

Errors leading to goals
Player scores, each week, range from 0-100. If a player does not play for their team in a game-week, they receive a player score of 0 on Sorare. If you own a card of a player whose team has 2 real life games in a single game-week, only the first game will be scored.
You'll also need to select a captain in your 5 player teams – whichever card you choose will receive a 20% bonus on their score.
Your player card's points are also impacted by card XP. A card's XP is based on the age of the card (current season cards get more), how many times you've used the card in tournaments and how many minutes the player plays in real life games. Weekly player score can change based on how much XP the card has.
The great thing about the weekly Sorare tournaments, is that there's prizes and rewards to be won – either in the form of Ethereum cryptocurrency or rare player cards (which can be sold).
Rewards change depending on what competition / league you have entered a team into. You don't necessarily need to place first in a competition to win rewards either but the higher you place, the better and more valuable the prizes will be.
Buying And Selling Cards On Sorare
As a sports card investor and collector, my attention was first caught by Sorare's trading and auction system. 
Transactions are completed using the cryptocurrency, Ethereum… so the dollar value changes depending on the current value of Ethereum. 
You can either fund your Sorare wallet using your credit card or via a bank transfer, or you can link your digital wallet (a number of different platforms are supported, including Coinbase) and use any existing Ethereum that you own.
The platform has its own 'transfer market' which allows users to buy and sell their digital cards to other collectors using a fixed price 'buy now' system (similar to eBay) – you're also able to make offers on other collectors' cards.
Once you start buying rarer cards and adding to your digital collection, you'll be able to enter teams into the higher entry weekly competitions and you can go for the bigger prizes.
Just like with physical sports card markets, prices are fluid and constantly changing depending on demand – the difference with Sorare's digital soccer cards, however, is that you have the element of player performance as well as a card's desirability among collectors.
A lot of the elements are the same as physical sports card collecting  – value is determined by the player's popularity and the rarity of the card etc but with Sorare, there's the extra dimension of cards earning prizes in the weekly tournaments… It's an interesting new dynamic to sports card collecting for a traditional collector like me.
The price and value of a player on Sorare can change based on how well the player is performing in real life (injuries will have a big impact too) as well as the current stage of the players season – if a team is about to start their league then the players within that team are likely to be selling for higher, as they'll be more demand, than a team who are in a league that's just ending for the season… that's because traders want to use cards in their collection to compete in the weekly tournaments, and as I mentioned earlier, if a player doesn't play in a game-week, they'll be given a score of 0 on Sorare.
As with any form of collecting soccer cards, do your research and consider those extra factors before jumping in and buying these digital cards – if you know what to look for then you'll be able to find good value and buying opportunities on the Sorare transfer market.
Sorare also has the 'New Signings' feature – this is where newly created and minted player cards are auctioned to players using a bidding system. These cards will not have been previously owned by any other players.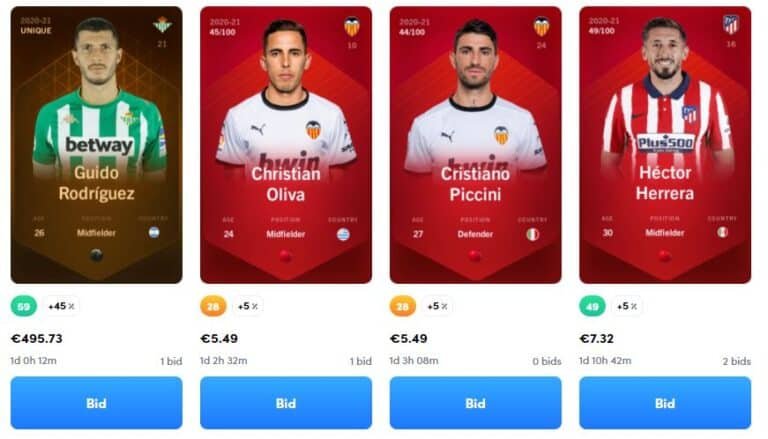 It's easy to sell players from your own collection to other collectors on the transfer market. Navigate to the 'My Gallery' section on the platform, then use the filters to find the card that you're looking to sell. Once you see the card, click on it. You will then see a button saying 'sell my card' – once you click on that, you can input the amount you'd like to sell the player for.
It's important to remember, as I said before, that player to player trading is done using only a 'buy now' system – so don't list a card with a low starting price in anticipation for an auction. If you make a mistake, or you no longer want to sell the card, you can cancel the sale. If a card that you list doesn't sell after 2 days, it'll be automatically cancelled… but you can relist it at a different price.
Consider the value of your card before selling – as I mentioned earlier, the value is impacted by many different factors. With rare and super rare cards, you can also search the market to see if other users have the same card listed… that'll give you an indication of what the card could be worth. I'd recommend listing the card for slightly more than you believe it's worth – you can always relist at a lower price if it doesn't sell… at least that way you know you're not selling it too cheap!
You don't need to spend any money to get started with Sorare. You receive 10 free common cards when you sign up and for the first 8 weeks, while you can enter the Rookie League, you won't need any rare cards. The weekly competitions are also free to enter.
However, I would say that, in order to be competitive and win some decent prizes, you will need to invest at least $500-$700 (at the time of writing this) – as always, do your research before and only invest money that you're willing to lose in a worst case scenario.
I haven't experienced any issues with Sorare in my time using it. The platform is endorsed and supported by major brands like Ubisoft and Opta as well as high profile soccer stars like Rio Ferdinand, Gerard Pique & Antione Greizmann.
The platform operates on Ethereum's blockchain network to secure the ownership and distribution of the digital collectibles. Cards cannot be altered or duplicated and are always limited.
After trying Sorare for a while now, I believe it's legit and perfectly safe to use – when I withdrew money from the platform, it was quickly back in my digital wallet.
What is an NFT Soccer Card?
NFT stands for Non-Fungible Token which is essentially a unique digital asset that exists on Blockchain. Being non-fungible means that, due to unique properties, tokens cannot be interchanged.
An NFT soccer card is basically a one of a kind digital soccer card – a record of ownership is stored on the Blockchain. Unique data and identification codes distinguish them from each other so there will never be 2 identical digital cards.
So, what is a Sorare card? Well, it's an officially licensed NFT collectible of a player for a particular soccer season. Every card is numbered and unique.
Can You Trade Cards On Sorare?
While you cannot directly trade one card for another card, users can buy and sell cards between each other using the Sorare transfer market.
Can You Make Money On Sorare?
There are multiple ways to make money using Sorare. All limited, rare, super rare and unique cards can be sold on the secondary market and sold for Ethereum which can then be withdrawn from the platform.
All weekly competitions have card prizes, which can be sold, and you can also win ETH rewards. Each competition has different prize eligibility – there's potential to earn thousands of dollars if your team places high enough in certain competitions.
There's also the traditional card flipping option to make money on Sorare. Similar to real life, physical sports trading card markets, the digital card values are supply and demand oriented and therefore prices are constantly changing. Investors and collectors have the opportunity to buy cards and sell them for profit to other collectors on the Sorare transfer market.
Sorare Review And Final Thoughts
In the time I've been using Sorare, I've enjoyed the experience. It's easy to learn the platform with the Starter Rookie League and it's an interesting new concept on how we collect sports cards going forward.
I could see why, for some, it could be confusing as to why someone would want to collect non-physical soccer cards – and I don't think it could ever replace the sports card hobby as we know it now but it combines traditional soccer card collecting with a fantasy soccer style element which makes it really fun. 
I think NFTs in general will grow in stature and popularity over time and I think Sorare will grow with them – it's still early days for the platform and I think it has a lot of potential to be even better.