As one of the most popular baseball players of his era, Freddie Freeman is a long-time favorite in the baseball card collecting hobby.
His blockbuster MLB career has made him highly respected, and his early baseball cards are well sought-after.
The best Freddie Freeman rookie card is the 2011 Topps Triple Threads card (#123), but there are other good alternatives which I've covered below.
His MLB debut in 2010 came too late in the season for his rookie cards to be included in that year's baseball card products, so collectors had to wait for 2011.
Freeman's rookie card offering is smaller than many modern players, with 14 official base rookies, but with the addition of inserts and parallels, there are still plenty of first year releases, which gives options for any level of collector.
There are also his prospect cards, from the few years prior to his official rookie cards, which also get plenty of attention in the hobby.
Here's a list of the best and most significant Freddie Freeman rookie cards and prospect cards, with varying levels of value and rarity, in no particular order.
The Top Freddie Freeman Rookie Cards
2011 Topps Triple Threads Freddie Freeman Rookie Card Auto Relic #123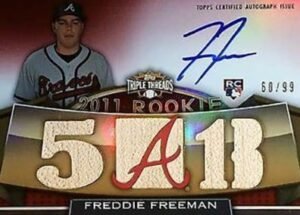 Starting with a big one, this is the only official base Freddie Freeman rookie card to include an autograph, and it's also the only serial numbered memorabilia card as well.
A trio of bat pieces are included with the on-card signature – This Triple Threads Freeman rookie card is the only super-premium option, which isn't an insert.
There are multiple lower-numbered parallels for this card as well.
2011 Topps Freddie Freeman Rookie Card #145
The 2011 Topps Freddie Freeman rookie card offers a good option for traditionalist collectors. It's by no means rare, but it has the Topps brand pull, and Freeman's card is also the key card in the Series 1 release.
There are an array of different parallel options for this one, with some of the low-numbered parallels holding the big value.
2011 Topps Chrome Freddie Freeman Rookie Card #173
The 2011 Topps Chrome Freddie Freeman rookie offers an upgraded chrome stock to the regular flagship Topps release – It also features a different image of Freeman.
Although this isn't considered a high-end option, the lack of those on the Freddie Freeman rookie card checklist gives it more attention.
There are numerous Refractor parallels to the base card, but the set also includes a Freeman Rookie Autographs insert card, which is very popular and sought-after.
2011 Bowman Freddie Freeman Rookie Card #205
While the shinier Bowman counterparts carry more value than the regular Bowman Freddie Freeman rookie card, it's a good low-budget option from one of the hobby's cornerstone brands.
More value can be found in some of the numerous parallel options.
2011 Bowman Chrome Freddie Freeman Rookie Card #185
Bowman Chrome might not have the same significance for a player's rookie card compared to their first release from the brand, but this still stands out as one of the most popular Freeman rookie cards.
The many Refractor parallel options offer collectors a harder and more expensive chase.
2011 Bowman Platinum Freddie Freeman Rookie Card #57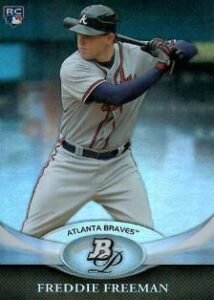 The 2011 Bowman Platinum Freddie Freeman rookie card is an alternative to some of the chrome options, with its foil stock.
Although there was a time that these types of foil cards were considered premium, they're not so much anymore, but it still offers collectors something different.
There are a few parallels for this one.
2011 Finest Freddie Freeman RC #72
The 2011 Finest Freddie Freeman rookie is another chrome option, with a large Refractor rainbow, which adds color to a nice looking card.
There are more appealing Freeman cards from the set than the base card, with an autograph and an additional autograph relic card, both with their own set of Refractor parallels.
2011 Bowman Sterling Freddie Freeman RC #1
One of the toughest Freddie Freeman rookie cards to find, the 2011 Bowman Sterling Freddie Freeman rookie card represents a more high-end option.
Base cards in this set were a secondary focus, with autographs, memorabilia cards and prospects in the mix, so they weren't as common as some of the more mainstream base cards, which is why it's a tougher chase now.
There are an array of numbered Refractor parallel options for this card as well.
2011 Topps Heritage Freddie Freeman RC #76
The 2011 Topps Heritage Freeman rookie is a throwback card, aimed at nostalgic collectors who desire old school baseball card designs – This one takes things back to the 1962 Topps design.
The retro card is a value option, and It's the only Freddie Freeman rookie card without any parallels. However, there is a card from the Heritage Chrome set, which has a lot less supply than the regular Heritage card.
The Top Freddie Freeman Prospect Cards
2006 Topps AFLAC Autographs Freddie Freeman #AFLAC-FF
A signed Freddie Freeman card that goes as far back as 2006, although it was included in 2008 Bowman Draft, the card was signed and produced two years earlier – The year 2006 can be seen in the bottom left corner.
2007 Bowman Chrome Draft Freddie Freeman #BDPP12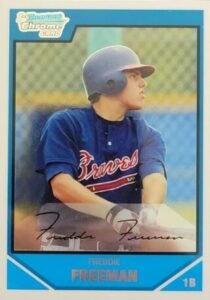 This 2007 Bowman Chrome Draft Picks & Prospects card represented Freddie Freeman's first MLB card release from a major brand.
It's one of the key Freeman cards, and a sought-after option, and it can be picked up for a reasonable price.
A tougher, and more expensive chase, can be found in the multiple Refractor parallels.
2007 Bowman Sterling Prospects Freddie Freeman #BSP-FF
Freeman was also included in Bowman's 2007 Sterling set, with this prospect card, which is a much tougher find than the Bowman Chrome Draft card from that year.
While Sterling doesn't have the brand prestige that Bowman Chrome has for earlier cards, it's a good option, with multiple different Refractor parallels.
2009 Bowman Chrome Prospect Autographs Freddie Freeman #BCP101
Freddie Freeman's first signed Bowman card came two years later than his first Bowman release, which is unusual for players in the hobby in recent times, but it hasn't affected its significance or importance.
This is one of the key Freeman baseball cards, which is highly-desirable and valuable.

The base version is accompanied by even more valuable Refractor parallels.
When Was Freddie Freeman's Rookie Season?
Freddie Freeman's MLB debut came toward the end of the 2010 season, with the Atlanta Braves. His first full year was the 2011 MLB season.
What Is The Most Valuable Freddie Freeman Rookie Baseball Card?
The most valuable Freddie Freeman base rookie card is the 2011 Topps Triple Threads autograph relic card – It's his only base rookie card to include his signature and a game-used memorabilia piece.