The Arizona Diamondbacks second baseman, Ketel Marte, has stolen the first base of the 2023 World Series, and earned the 5 holders of his 2023 Topps Tacofrator baseball cards "free Taco Bell for life", which is actually a $15k digital gift card for the fast-food restaurant.
In addition to the $15k gift card, the 5 winners will also receive $5,250 in cash.
What Are 2023 Topps Tacofractor Cards?
Topps released 300 different Tacofractors, 200 of them in the 2023 Topps Chrome baseball set and 100 in the 2023 Topps Cosmic Chrome baseball set. All Tacofractor cards are limited to just five numbered copies.
The insert cards featured a bold design, with tacos in the background imagery, but with no actual mention of Taco Bell; At first, the promotion wasn't announced, and the reason for the Tacofractor cards was kept a mystery.
How Does Topps' Tacofractors Promotion Work?
In October, once the postseason was underway, Topps announced their "Steal Taco Bell For Life" contest.
The reason behind the 2023 Tacofractor baseball cards was revealed – Holders of Tacofractor cards of the first player to steal a base during the 2023 MLB World Series would each win a $15k digital gift card, plus $5,250 in cash.
Collectors who hold one of the five winning cards can redeem their reward directly through Topps, on their website.
What Is The Winning 2023 Topps Tacofractor Card?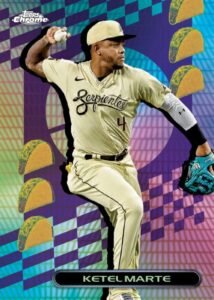 Ketel Marte stole second base off Nate Eovaldi in the third inning on Friday night for the Diamondbacks against the Texas Rangers, so his Topps Tacofractor cards, which were released in the 2023 Topps Chrome set, can now be redeemed for the "free Taco Bell for life" prize by the five lucky collectors who hold them.
One of the five Marte Tacofractor cards sold for as little as $297, with one selling for $1,000 last Thursday, just two days before it became the winning ticket.