As most of us know by now, the condition of a collectible card has a big impact on its value.
The slightest scuff to the corner of a well centered card can be the difference between a PSA 10 and a PSA 9 which in a lot of cases equals the difference of thousands of dollars.
It doesn't take a lot to damage a collectible card or (soccer) sticker, so when it comes to shipping them for grading or selling we need to make sure we're packaging them properly and safely.
Even if you're not sending the card through the mail then it's worth following the first 3 steps below to protect your sports card while storing them.
The following steps are a cost-effective way to make sure your collectible cards are shipped safely.
What You'll Need To Safely Ship Cards
The Best Way To Package Sports Cards
Here's a quick overview on how to safely package your card for shipping. You should have already prepared and cleaned the card before taking these steps:
Carefully place the card into a sleeve – wash your hands before doing this and make sure you avoid touching the card surface.
Apply a sticky index tab on the top outer surface of the card sleeve, this makes it easier to remove from a toploader or semi-rigid card holder.
Carefully put the card (inside the card sleeve) into a toploader or semi-rigid card holder.
Place the card (which is now inside a sleeve and toploader) into a clear poly bag and seal.
Place the poly bag, with the card inside, into a bubble mailer and seal – It's now ready for shipping.
Now let's go into a bit more depth with a step-by-step guide:
If you haven't already, carefully put your sports or trading cards into a card sleeve (sometimes known as a penny sleeve) before doing anything else. 
You Should have already given the surface of the card a clean before packaging, so be sure to avoid touching the surfaces and leaving any fingerprints or residue on the card.
When doing a box break or pack opening, most collectors will place a card into a sleeve straight away to preserve its mint condition
It'll stop any direct handling of the card which could cause scratches or scuffs… it basically gives a first layer of surface protection for your card.
Now it's best to apply a sticky index tab to the outside of the card sleeve.
This makes it super easy to slide the card sleeve containing your sports card out of its toploader (which will be the next step).
Not having a sticky tab means trying to open the toploader and pull the card sleeve out directly, which can bend or cause damage to the card if not done right.
Step 3 - Toploader / Semi-Rigid Card Holder
Now that you have your card protected by the card sleeve, and the index tab stuck on for easy access, it's time to give the card an extra layer of protection.
This one comes down to a bit of personal preference… you have the option of either a toploader or a semi-rigid cardholder.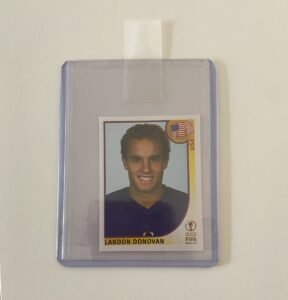 Toploader Or Semi-Rigid Cardholder For Shipping Cards?
To be honest, there isn't a huge difference between toploaders and semi-rigid card holders.
A toploader is probably the safer option – they are more rigid and therefore your sports card is less likely to bend or crease.
A semi-rigid cardholder takes up less room because they are thinner, so you can save space and stack more cards. They still give the card extra protection but there's a small chance of the card bending if the package isn't handled correctly.
I personally go with a toploader, unless i'm sending a card off to be graded – grading companies, like PSA, prefer for submissions to be sent in a semi-rigid cardholder… it can also lower the price of a submission so that's what I go with.
It's all down to your own risk tolerance – the safest bet is to go with the toploader but there are pros to using either.
An extra step that I take when shipping any collectible card is to then place it into a clear poly bag.
This'll help stop any sliding or moving during the mailing process… it's not an essential step, I just like making sure the card is as protected as possible. 
In most cases, if this is sealed properly, the poly bag will also help keep the card safe if the package gets wet.
The final step of the packaging process before your card is ready to be shipped safely.
Place the card, which by now is already in a card sleeve (with sticky index tab applied), a toploader and a clear poly bag, inside a bubble mailer and seal it up.
The bubble wrap on the inside of a bubble mailer will supply a little extra padding and protection for sports cards.
How To Ship Multiple Sports Cards
When sending multiple cards through the mail, let's say 5-10, I would recommend putting the cards into penny sleeves and toploaders (or semi-rigid card holders if you're sending to be graded). I would then stack the toploaders between 2 pieces of cardboard and keep that secured using rubber bands – make sure the rubber bands are in contact with the pieces of cardboard and not the toploaders with the cards inside.
If the stack of cards becomes too big to use a bubble mailer, use a small box and make sure any free space is filled with bubble wrap so the cards can't move around when being shipped.
How Much Does It Cost To Ship A Sports Card?
The cost of shipping a sports card in a bubble mailer will obviously be dependent on where you're sending it to. If you're sending the card within the US, then it'll cost no more than $5.00 to send first class.
The cost of safely packaging a card to be shipped should cost no more than $2.00.
Can Sports Cards Be Shipped Using Media Mail?
Sports cards are not considered 'media' by USPS, and should not be shipped using Media Mail.
If you ship sports cards via Media Mail, USPS can, and will, open packages that they suspect of violating terms, and return any containing sports cards, unless the addressee agrees to pay the difference in cost.
Sports cards should be shipped either Priority or First Class.
As I mentioned earlier, taking the necessary steps to protect valuable sports cards, either when storing them or shipping them, will help preserve their condition which makes them more valuable.
The last point I would like to make is the importance of making sure you send your package with signature confirmation from the recipient – this leaves a paper trail and avoids the potential for your sports cards to be left unattended on a doorstep, for example.