Every year, baseball card collectors have a host of different MLB card brands to choose from, released by various card manufacturers – So, what are the best baseball boxes and packs to buy?
Well, the definition of the best baseball card product is different for everyone, and it changes depending on what your goal is, or the budget you have.
In my opinion, the best all round baseball card product for the regular collector is Bowman or Bowman Chrome, but there are many different brands, which offer something for everyone; This article breaks down the best baseball card boxes and packs to buy based on different preferences and desires.
The Best Baseball Card Products At A Glance
Top Baseball Card Brands For Everyone:
Top Baseball Card Brands For Collecting And Having Fun Ripping Packs:
Top Brands For Prospecting And Rookie Cards:
Top Brands For Premium And Super-Premium Baseball Cards:
Now let's take a look at the list in more detail:
What Are The Best And Most Popular Baseball Card Products?
The MLB card products below are popular and established brands, which have pedigree in the hobby, and are great for all types of collectors.
Going for a hobby box will cost more than buying retail packs, but will include more big-hits, and a higher chance at the most valuable chase cards from their sets, but both retail and hobby boxes offer plenty of variety and potential big cards.
They're generally good sets for everyone, and while buying sealed wax to open with the intention of selling the contents inside for a return on investment isn't often profitable, those who want to take that risk should consider the brands below as some of the best baseball card sets to offer a potential ROI.
Topps Series 1 is without doubt one of the baseball card hobby's most anticipated and popular releases.
Topps release their Series 1 product during the opening months of a new year, and it's usually the first part of the 'flagship' set (which refers to any of the regular series Topps releases), that helps kick-start the MLB collecting season in any given year.
It's generally a big set, with a mix of veterans and rookies, plus an array of parallels, inserts (with popular previous examples including Legends of the Game and Future Stars, among others), autographs and relic cards.
It's a readily available MLB card product, with affordable retail packs and hobby boxes, and a checklist that generally covers a lot of ground, so it's a brand that's good for all types of baseball collectors.
Topps Series 2 comes later in the year than the Series 1 product, but it's a continuation of Topps flagship, which expands on Series 1 and adds some new exciting elements for collectors.
It's generally another big overall set, with plenty of rookies and veterans that don't appear in Series 1, as well as the wide selection of parallels, inserts (some of which expand on the subsets from Series 1), autographs and relics.
Again, like Series 1, it's a readily available and popular set, which has the clout of the Topps flagship product.
Topps release their Chrome Baseball product later in the year than the Series 1 and Series 2 products, and it adds a premium touch, with the flagship design on chromium stock.

The Topps Chrome set adds lots of color, and that's before you get to the popular stable of Refractor parallels, and some of the hobby's boldest insert card designs.
Autographs tend to be a prime feature of the popular product, with Rookie Autographs generally being the cornerstone signature feature of the set.
It's a more premium MLB card release than Topps Series 1 and 2, and comes at a higher price.
Bowman Baseball is one of the hobby's longest-standing products, and great for collectors who like prospecting.
The set generally offers a decent size checklist, with a mix of paper and chrome. It's usually split into three main sections, with veterans and rookies making up the base set, but they're secondary, as the cornerstone feature is generally the prospect and chrome prospect cards, with a large selection of the latest young talent.
The Chrome Prospect Autographs, which offer some of the first MLB signatures from players, and numerous Refractors generally headline the Bowman Baseball sets.
You can expect to pay a decent amount for both retail and hobby boxes.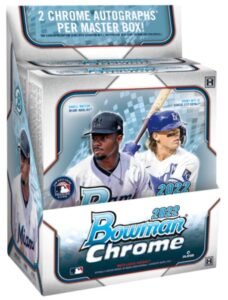 Released later in a season than Bowman Baseball, the Bowman Chrome set acts as an extension, or continuation of the regular Bowman set, with a chromium approach, much like Topps Chrome does for Series 1 and 2.
The checklists for Bowman Chrome sets are either largely Chrome, or fully Chrome, and the sets include more prospects, autographs and Refractors, which are again the prime features of the Bowman Chrome product.
Lots of new players get their coveted 1st Bowman Chrome Autographs card in the Bowman Chrome sets.
Like the regular Bowman Baseball brand, you can expect to pay a decent amount for retail packs and hobby boxes for Bowman Chrome.
Topps release Bowman Draft usually as the third installment of the main Bowman line of a season, and the product is a combination of Bowman and Bowman Chrome, which continues the theme of Autographs, Refractors and prospects.
The Bowman Draft sets generally feature a big checklist, with a heavy emphasis on draft picks.
Like with the Bowman Baseball and Bowman Chrome sets, the big hitting card of Bowman Draft releases are the Chrome Prospect Autographs.
Bowman's Best is a baseball card product that usually comes near the end of the season, and while the other main Bowman lines have a heavy emphasis on prospects, these sets are more of a mix, combining prospects, rookies and veterans.
The brand offers collectors chromium designs, with lots of flair and color.
Inserts, Refractor parallels, and autographs all feature heavily in the Bowman's Best brand, making them some of the funnest packs to rip. Historically, the set offers collectors one of the few checklists to find a combination of up-and-coming talent and veteran signatures.
An early season MLB card release from Panini, Donruss Baseball has a long legacy and big pedigree in the hobby, which is readily available for all collectors.
The brand offers plenty of variety, with a mix of throwback and modern, plus autographs, relic cards, parallels and inserts, including Rated Prospects.
Donruss sets are most known for the Rated Rookie line – They often include a good-sized checklist of the latest top first-year players, which come with a growing array of parallel options.
Donruss Optic sets bring a chromium spin to the regular Donruss Baseball sets, but generally add additional colorful parallels, bold inserts and Rated Rookie Autograph cards.
It's a brand that covers a lot of ground, with big checklists, and plenty of variety, like the regular Donruss Baseball brand.
The base cards have a premium shiny finish, with a mix of both Rated Rookies and established names.
The prime feature of Donruss Optic boxes is the Rated Rookie Signatures and Rated Prospect Signatures.
What Are The Best Baseball Card Boxes For Collecting And Having Fun Ripping Packs?
The following baseball card products are generally low-cost and readily available. They are brands that tend to offer either lots of variety in their sets, or unique card design concepts, which makes their packs fun to rip, and great for a regular collector.
Panini Prizm is a brand that definitely has some big hits, with low-numbered parallels, and popular insert lines, particularly in the hobby boxes, but the sets also have a lot of variety and big checklists with numerous parallels, that aren't necessarily valuable – They're generally fun packs to rip, and good for all collectors.
Panini Chronicles is a product that combines numerous Panini card brands, and offers an assortment of different styles. It's a cheap product and a great release for collectors who want variety and fun opening packs, with a different selection of base cards, inserts and autographs all in one place.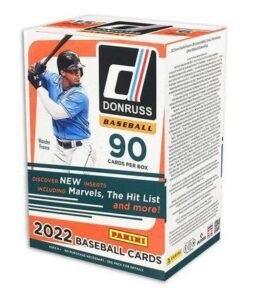 We've already discussed the variety that the Donruss Baseball brand generally offers, with big checklists that feature a good mix of throwback and modern, plus autographs, inserts and lots of parallels – It's a readily available product and an early season release, perfect for new collectors.
Topps Heritage is an ideal baseball card product for older collectors who want a brand which is built largely with nostalgia and set building in mind. The low-cost yearly release is not a hits-driven set, and brings back topps card designs from sets in years gone by, with current and former players featuring on the throwback designs.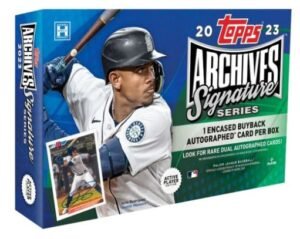 Topps Archives is another baseball card brand that is aimed at the nostalgic collectors, with plenty of old card designs reimagined in different ways, and the inclusion of former players who never had many cards in their day. Archives sets generally offer a good mix of past and present, with big checklists, plus inserts and parallels to make for a fun rip.
While other baseball card brands are centered around big-hits or bold parallels and inserts, Topps Stadium Club is a long-standing brand that focuses on great photography. The card designs, with full-bleed imagery, offer something unique and fun – Stadium Club sets do include some chase elements though, like Foil parallels and on-card signature cards – It's a decent option for a lower-cost baseball card product.
What Are The Best Baseball Card Packs For Prospecting?
For many, prospect cards are a big part of the baseball card collecting hobby – Certain baseball card brands' packs and boxes are the best to open for those collectors who enjoy prospecting; The sets below are generally the best baseball products for prospect cards:
Bowman / Bowman Chrome / Bowman Draft
Panini Prizm Draft Picks
Donruss / Donruss Optic
What Are The Best Baseball Card Packs For Rookies?
If you're looking for baseball card brands that are generally rookie card heavy, the brands below are good options:
Topps Series 1 / Topps Series 2 / Topps Chrome
Bowman / Bowman Chrome
Panini Prizm
Donruss / Donruss Optic
What Are The Best Baseball Card Boxes For Premium Baseball Cards?
For collectors with a big budget, there are premium and super-premium baseball card brands, which cost more, but focus on the high-end, with an emphasis on low-numbered hits, autograph and relic cards – The list below covers the best baseball card boxes to buy for premium and super-premium cards: