Should you invest in sports cards? It's a question I see a lot – They can certainly be a great alternative investment and, in this article, I'm going to look at the reasons you should invest in sports cards in 2023.
Online marketplaces like eBay have made it easier than ever to buy and sell items with people all around the world.
There's also multiple tools and resources online that have huge amounts of data now as well, such as pricing history and current trends, of specific cards and the overall market – It's never been easier to invest in sports cards.
Recommended Tool:
Market Movers

There's no better tool for sports card investors, with endless data and graphs for both the overall market, and specific cards. Track your sports card portfolio easily in one place.
Are Sports Cards Still A Good Investment Option?
Firstly, it's important to remember that the sports card market is no different to other asset markets.
Markets can go up and down, and that's true for a supply and demand orientated market like this one – no one can predict with 100% certainty what is going to happen.
Like any other investment, there is always some level of risk, and there will be price fluctuations along the way.
Millionaires today have an average of 7 different streams of income, and investing is a big one for many.
A diversified investment portfolio is generally the most sensible and safest option.
In recent years, sports cards have often given far better returns than something like an S&P 500 index.
If you know what you're doing, it can make a lot of sense to allocate a portion of your investment portfolio to sports cards, and other collectibles – I'm not saying stop the more traditional investments, but again, it's about diversifying.
Sports card investing isn't a get rich quick scheme, I personally prefer the strategy of buying popular, and scarce cards, and holding over many years.
It's similar to the traditional stock market in many ways – You'll need to do your research and make the right picks. Some picks will work and some won't, and sometimes the condition of the overall market gets tougher; That's when research and patience become even more important. A market that's down can often be the best time to buy, with discounted prices for higher returns in the future – Just like the stock market.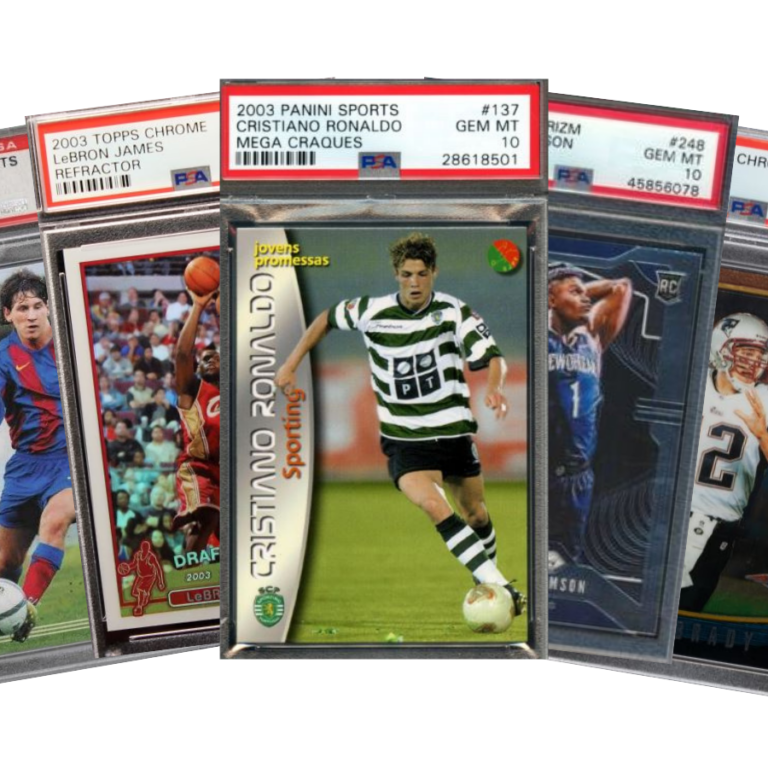 Why You Should Invest In Sports Cards
1. The Next Generation Of Card Collectors Are Here
Sports card enthusiasts from the 80s and 90s now have kids – and that means we've entered a new cycle.
People are rediscovering their passion and enthusiasm for sports cards, and not only that, collectors who've returned to the market because of their kids likely have much more purchasing power than they did when they were young.
Video games like Madden Ultimate Team and Fifa Ultimate Team have already given the kids of today the taste of 'packing' their favorite player digitally – that sets them up nicely to move onto the real thing.
That rise in demand from new collectors and returning collectors will only send the values on limited cards higher.
2. The Internet Has Made Collecting Cards Easier And More Popular Than Ever
Youtube, online blogs, social media and online marketplaces… Just the internet in general! Card collecting has become so much easier and accessible.
For example, people are watching their favorite youtubers or influencers creating content like a pack opening… this helps build some serious hype!
Collectors can educate themselves at a few clicks of a button and communities are being built online, connecting thousands of people from different parts of the world.
You can manage and track your investments or collection with tools like Market Movers, a platform that I use.
For someone serious about investing in sports cards, and maximizing profits, there's no better tool currently. Endless data and graphs on both the overall market, and specific sports cards, with pricing history, latest trends, and price alerts.
3. Limited Cards Get Harder To Find Years After Release
Collectors, in the hobby today, value scarcity more than ever. Low-numbered cards, rare parallels, inserts, autograph, and memorabilia patch cards are all prevalent.
Cards that are highly desirable and sought-after often have very limited supply.
Fast-forward 10 years and, it'll be even harder to get hold of the popular and low-numbered cards – The values will rise as a result of that, we've seen it with 1st edition Pokemon cards from the 90s already, for example.
Graded cards also create another layer of scarcity – These days, many collectors want gem mint quality or close which often do not come in big supply – even hugely overprinted cards can be rare in the highest grade.
Sports Card Investment Strategies
As always, spend time educating yourself before jumping in, there are plenty of different strategies for sports card investing. 
One strategy, which is how I approach sports card investing, is to buy legends to hold for 10-20 years as their value will grow over time (think Jordan, Brady & Messi) – it's a long term investment. 
There's also the short term option – buy cards and look to flip them for profit after a few weeks or months of holding. This works with rookies who could be about to have their breakthrough season… but the risk is higher with these types of cards, they might not reach the levels you expect, often they don't, and so they don't gain value at the level you first thought.
Find the strategy that works for your risk tolerance and patience levels.
Sports cards have had some great recent years of growth – There are opportunities on the market for further profits in years to come. It's similar to the traditional stock market; Do your research and make the right picks, and you might also need a bit of luck along the way.
The 3 main reasons that I've listed above, why sports cards are a good investment right now, are enough to get me excited for the potential that sports cards have in the future.
There will be ups and downs in the market but by taking time to educate and pick the right cards, I think any risk can be massively minimized.