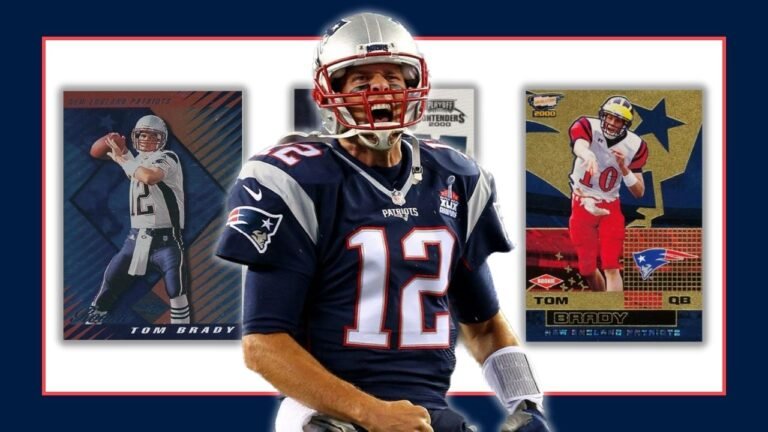 A good deal of football fans will agree that Tom Brady is the greatest player the NFL has ever seen – He's certainly in the conversation, for most. 
The legendary quarterback's list of achievements and accolades are almost endless, he's established himself as not only a giant name in football, but in the world of sport in general.
The 7-time Super Bowl champion is best known for his 20 seasons with the New England Patriots, where he won 6 of those Super Bowls, before his move to the Tampa Bay Buccaneers, which resulted in him winning his 7th Super Bowl title.
Brady also won the NFL's Most Valuable Player 3 times, and was the Super Bowl's MVP 5 times.
In the Football card collecting hobby, Brady rookie cards are highly sought-after, because of his status and popularity in the sport. Every Tom Brady rookie card holds high value.
His legacy is cemented, and he'll always be recognized as one of the greats, so it's hard to go wrong with Brady rookie cards.
With over 40 different Tom Brady rookie cards, from various different manufacturers, there are plenty of options for collectors, but the days of cheap options are gone – most have sky-high values, with some of the more common rookies slightly more affordable, but still not cheap.
Let's take a look at 12 of the best Tom Brady rookie cards, in no particular order.
The Most Valuable Tom Brady Rookie Cards
2000 Playoff Contenders Tom Brady #144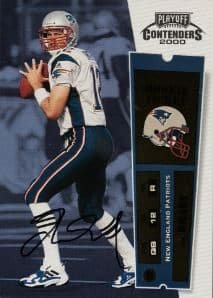 The significance of the 2000 Playoff Contenders Tom Brady rookie card is that it's his only autographed rookie. He does have a number of autographed releases from 2000, but surprisingly, this is the only official rookie card that has his signature.
Although the base card isn't numbered, it's popular because of the autograph, but that's not the only appeal – The Contenders brand is hugely popular in the hobby, with the distinct rookie ticket design.
There's also a Championship Ticket parallel card, which is numbered to just 100. The base card has huge valuations, but the parallel sells for more due to its scarcity.
This one is prone to fakes and counterfeit cards, because of its status and popularity in the hobby – It's something to look out for if you're in the market for it. The safest bet is to get one that's already graded.
2000 SP Authentic Tom Brady #118
Another of the most valuable Tom Brady rookie cards is the 2000 SP Authentic card, numbered to 1,250.
Although this one doesn't have an autograph, and while it is rare, there are rarer Brady rookie cards, it is, however, one of the most iconic and sought-after football cards out there – It's hugely valuable and popular. 
Back when this was released, SP Authentic was well-placed in the hobby as a premium brand, and collectors went mad for it, so the brand appeal, even now, is what gives this card a higher value than most Tom Brady rookie cards.
2000 Pacific Revolution Tom Brady #128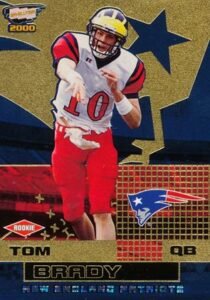 With just 300 copies, the 2000 Pacific Revolution Tom Brady rookie card is his 2nd rarest, and one of the most valuable.
The design of the card has quite a lot going on, with a gold, blue and red patriots style background. There are no parallels with any different designs.
The 2000 SPx Tom Brady rookie card is another that's numbered, with 1,350 copies. Despite there being much more scarce options, this card is one of the more popular and valuable Tom Brady rookies.
The card itself has quite a premium feel to its design – the blue and white background with the gold foiled text make for a clean looking card.
2000 Leaf Limited Tom Brady #378
The 2000 Leaf Limited Brady rookie card is one of his most rare, numbered to just 350 copies.
The foiled card, with the action shot of Brady, has a nice design and is another very popular Tom Brady rookie card option.
2000 Upper Deck Pros And Prospects Tom Brady #124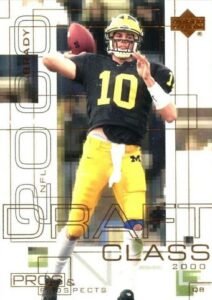 It's easy to tell this Tom Brady rookie card is made by Upper Deck – Some distinct features with the foiled lines, and multi-directional text, make it very recognizable from an Upper Deck perspective.
It's also the rarest Upper Deck Tom Brady rookie card, limited to just 1000 copies. It might be a bit of a busy looking card, but it's a cool option for collectors.
2000 Playoff Momentum Tom Brady #180
At the time of release, the 2000 Playoff Momentum Tom Brady rookie card was considered a more high-end, premium product. 
The hobby has changed a lot since, but the etched foil design of the card gave it a big appeal, plus it was limited to only 750 copies, so it's very much one of the more valuable Brady rookies today.
2000 Bowman Chrome Tom Brady #236
The 2000 Bowman Chrome Tom Brady rookie card is one of his most popular and valuable, despite not being numbered or particularly premium – There are a couple of reasons why that's likely the case, firstly the brand recognition (this is one of two rookie cards released by Topps), plus it's the only chromium style Brady rookie card.
Chromium cards are popular products in the hobby today, so this being Brady's only chromium style card gives it huge appeal to collectors.
The card also has an even more popular Refractor parallel.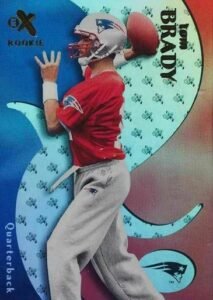 While Fleer's E-X product might not be as mainstream as some, the 2000 E-X Tom Brady rookie is a nice card, and the most valuable Fleer Brady rookie.
Numbered to 1,500 copies, it's in the category of Brady's rarest rookie cards, but it certainly holds good value.
2000 Upper Deck UD Graded Tom Brady #104
Another card that's quite easily recognizable as an Upper Deck product – It's one of the more moderately affordable Brady rookie cards.
The 2000 UD Graded Tom Brady rookie card was quite unique because, as the product title suggests, it offered cards that were pre-graded in most instances. The card is numbered to 1,325 copies, with around 850 of those included in packs in SGC grading slabs.
2000 Private Stock Tom Brady #128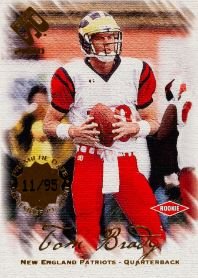 Technically the rarest Tom Brady rookie card, with 278 copies, however the 2000 Private Stock card isn't one of the most valuable Brady rookies.
That's because there's a nearly identical retail version with a further 650 copies, and multiple parallels which, when combined, takes the print run number a lot higher.
2000 Vanguard Tom Brady #139
This one offers something slightly different in design, with the so-called 'Vision-Glow Technology' – Although I'm not totally sure what that means, the card looks cool, with a clean image of Brady in action.
The card is limited to just 762 prints, which helps its value.
When Was Tom Brady's Rookie Season?
2000 was Tom Brady's rookie year in the NFL – He was selected as the 199th pick in the 2000 NFL Draft by the New England Patriots.
Frequently Asked Questions About Tom Brady Rookie Cards
How Many Tom Brady Rookie Cards Are There?
There's 44 different official base Tom Brady rookie cards, not including parallels and inserts, with only 1 autographed option.
What Is Tom Brady's Rookie Card Worth?
All Tom Brady rookie cards fetch huge money on the secondary market these days, usually in the tens and hundreds of thousands, depending on which card and what condition it's in. The 2000 Playoff Contenders #144 card can sell for millions of dollars in top grade.
What Is Tom Brady's Most Valuable Rookie Card?
The 2000 Playoff Contenders #144 card is Tom Brady's most valuable rookie card, probably because it's the only autographed rookie card option of his – It's a hugely popular and iconic football card.