Shaquille O'Neal doesn't need much of an introduction – A dominant figure both on and off the basketball court, Shaq is probably the most unstoppable center the NBA has ever seen.
It's hard to talk about Shaq's NBA career without mentioning Kobe Bryant, who he teamed up with so successfully for the LA Lakers in the early 2000s, despite their personal differences. Shaq's size and power were unprecedented, and he was such a big part of that dominant three-peat Lakers side.
The 4-time NBA champion won his first NBA championship with the Lakers in 2000 – he went on to win a further two titles with them in 2001 and 2002. His fourth and final NBA championship came in 2006, with the Miami Heat.
The 15-time NBA All-Star also won the NBA's Most Valuable Player award in 2000, and an Olympic gold medal with team USA in 1996 – his list of accolades and achievements are almost endless, there's no doubt he's one of the greats of the sport.
At one time, basketball card collectors were going absolutely crazy for Shaq rookie cards, the hype and hysteria for them was huge, and his popularity was off the charts.
His rookie cards were released during the 'Junk Wax era' of sports cards, so they were highly produced and available at the time, which maybe makes them easier to get hold of these days.
There's certainly still demand in the hobby for Shaquille O'Neal rookie cards, and while the high production numbers perhaps bring their values down, some do still hold high value.
So, what are the best Shaquille O'Neal rookie cards? The list below counts down the top 5 most expensive and popular options.
What Are The Most Valuable Shaq Rookie Cards?
5. 1992-93 Fleer Ultra Shaquille O'Neal #328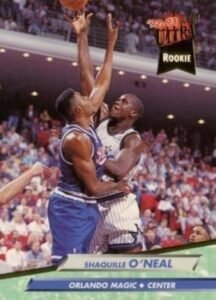 In my opinion, the 1992-93 Fleer Ultra Shaquille O'Neal rookie card features the best design and image of him.
The colorful action shot of Shaq in action against Duane Causwell, with the marble style nameplate, and rookie banner in the top right, make for an eye-catching card – one that is popular among collectors.
PSA 10 average price: $70-$120
4. 1992-93 Fleer Shaquille O'Neal #401
The 1992-93 Fleer Shaquille O'Neal rookie card was released in series 2 boxes.
It's quite a dated looking card, but overall it has a nice design, with the gold border and blue and gray basketball textured nameplate banners.
The card has an image of Shaq which, again, showcases his size and dominance on the court, and it's worth noting this is the only rookie card of his that showcases him in a black Orlando Magic jersey.
There are a couple of different iterations of this card, including a perforated Fleer card version, which does not have a number on the back, found on promotional sheets – either from the NBA Rising Stars Golden Book sheet or the Gooding's Orlando Magic team stadium giveaway sheet.
PSA 10 average price: $130-$150
3. 1992-93 Topps Gold Shaquille O'Neal #362
The 1992-93 Topps Shaq rookie is one of his most valuable rookie cards.
There's a Gold parallel, which is rarer, and slightly more valuable than the standard version – The difference is with the text at the bottom, which is in a gold foiled frame for the gold card, easily distinguishable from the more common standard card. 
I think this one is a great card, with a clean design showing Shaquille O'Neal in action, and demonstrates his size and dominance on the court – unstoppable in terms of his size and power.
PSA 10 average price: $900-$950
2. 1992-93 Upper Deck Shaquille O'Neal #1
This is a card which offers something slightly different in terms of design and image. The 1992-93 Upper Deck Shaq rookie card is also one of his most rare, albeit still not in short supply, due to the era it was released.
Upper Deck tried something different with the image, by including 3 shots of Shaq dunking from start to finish.
Although the card is #1, it was issued in series 2 packs. The '#1 NBA Draft Pick' text at the top of the card gives it a little extra appeal to collectors.
This is one of my favorite Shaq rookie cards, and the slightly lower print run could be good for its value in the future.
PSA 10 average price: $1,600-$1,700
1. 1992-93 Topps Stadium Club Beam Team Shaquille O'Neal #21
This card is arguably the most sought after Shaquille O'Neal rookies, and the 'Members Only' parallel version  is by far the most valuable Shaq rookie card, and one of his most valuable cards of all-time.
It's actually an insert, from the 'Beam Team' subset, which featured the biggest stars in the NBA – Shaquille O'Neal was included in the set, despite being a rookie.
At the time, this Shaq insert was hugely popular, along with the Michael Jordan one, and that popularity has held strong over the years, it's one that most basketball collectors would love to have.
Base version PSA 10 average price: $200-$250
Members Only version PSA 10 average price: $9,000-$9,500
When Was Shaq's Rookie Season?
The 1992-93 season was Shaquille O'Neal's rookie season – He was the 1st pick of the 1992 NBA Draft, selected by Orlando Magic.
Frequently Asked Questions About Shaquille O'Neal Rookie Cards
What Is A Shaq Rookie Card Worth?
Shaquille O'Neal rookie cards were released during the Junk Wax era of sports cards, which means they were very highly produced, which does negatively affect their value.
The value of a Shaq rookie card depends on which one you're talking about, and what grade/condition it's in. These days, the more sought-after Shaq rookie cards, like the Stadium Club Beam Team insert and the Topps Gold card, sell for multiple thousands of dollars in high grades.
What Is The Most Valuable Shaq Rookie Card?
The most valuable Shaquille O'Neal rookie card is the 1992-93 Topps Stadium Club Beam Team 'Members Only' card, which sells for thousands of dollars in a high grade.
Is A Shaq Rookie Card A Good Investment?
The overproduction of cards in the year that Shaquille O'Neal rookie cards were released doesn't help their values, but we have seen sharp increases in values on Shaq rookies in recent times. 
He's a popular figure, and one of NBA's greats, and while I don't believe there's huge room for further growth in values, I think buying certain Shaq rookies, such as the more limited 1992-93 Upper Deck #1 card, could be a good sports card investment play for steady rises in value over time. 
There should always be a good level of demand for Shaq rookies in the basketball card hobby.