Shaquille O'Neal dominated the NBA during his career with his ability, presence and personality – He's one of the greatest players the league has ever seen.
At one point, the 4-time NBA champion and 15-time All-Star was the hottest name in the basketball card collecting hobby – His rookie cards were very popular out of the gate, and today his cards remain very collectible and sought-after.
Shaq is probably best remembered for being an integral part of the three-peat Lakers side, sharing the success with legendary teammate, Kobe Bryant.
Although O'Neal's rookie cards came at the back-end of the Junk Wax Era, he has some very valuable basketball cards from across his playing career, and after his retirement, in recent high-end Panini products.
So, with so many different cards over the years, which are the most valuable Shaquille O'Neal cards? The guide below runs through the key picks from his rookies in 1992 to now.
The Most Valuable Shaq Basketball Cards Ever
1992-93 Stadium Club Beam Team Members Only Shaquille O'Neal Rookie Card #21
Starting with the most sought-after and valuable Shaq rookie card, the 1992-93 Stadium Club Beam Team card.
This one is among the most popular Shaquille O'Neal cards of all-time – The Beam Team inserts were designed to resemble a halftime laser show, and they were popular at the time of release, which has held strong over the years.
There's a Members Only parallel version, which was part of a factory set, and is slightly more valuable – The only difference is a subtle 'Members Only' watermark on the front of the card.
PSA 10 average price: $9,000-$9,500
1993-94 Finest Refractor Shaquille O'Neal #3
While the base card offers collectors a nice option, the big value from 1993-94 Finest Basketball is found in the Refractor parallels, an idea which helped shape the future of the hobby.
The burst of color makes for bold and nice-looking cards that are still highly desirable to collectors – The limited 1993-94 Finest Refractor parallel Shaquille O'Neal card is one of his most valuable and popular cards.
PSA 10 average price: $5,500-$6,000
1997-98 Metal Universe Precious Metal Gems Shaquille O'Neal #50
The 1997-98 Metal Universe Precious Metal Gems release is one of the most iconic basketball insert sets ever, which features some of the most valuable sports cards from the 1990s. Shaq was one of the star names, along with the likes of Michael Jordan and Kobe Bryant.
Limited and serial-numbered to just 100 copies, the first 10 were green in color, with the remaining 90 made in red – Both versions are worth big money, but unsurprisingly, the added scarcity makes the green version more valuable.
The high values are driven not only by the popularity and rarity, but also because they're hard to keep in top condition, due to the foil, so top graded versions carry an extra premium.
PSA 10 average price: N/A (no data, PSA 4 average price: $160k-$180k)
1997-98 Metal Universe Championship Precious Metal Gems Shaquille O'Neal #1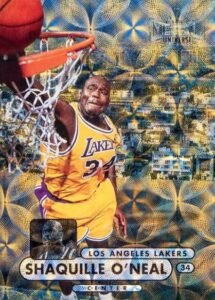 Another Precious Metal Gems insert entry from 1997-98, which was released in the Metal Universe Championship set, later in the season than the standard Metal Universe set, and was a standalone, with a different approach to card designs.
The Precious Metal Gems insert had a significantly different design to its counterpart from earlier in the year, with no etched foil this time, we see a circular background pattern on these.
The print run for this one was lower, with only 50 copies – Despite that, the Shaquille O'Neal PMG card from this set is worth less than the etched foil PMG card from the standard Metal Universe set, but it's still very expensive to buy, if you can find one, and it's one of Shaq's most valuable basketball cards of all-time.
PSA 10 average price: N/A (no data, PSA 7 average price: $25k-$27k)
1997-98 Skybox E-X2001 Essential Credentials Shaquille O'Neal #7
The Skybox E-X products of the 1990s included some of the most popular and sought-after basketball cards of their era.
The 1997-98 Skybox E-X2001 set had base cards accompanied by two limited parallel sets, Essential Credentials Now and Essential Credentials Future.
Shaq's green colored Essential Credentials Now card is limited to just 7 copies and the red colored Essential Credentials Future card is limited to  74 copies, so they're very hard to come by.
The regular base card holds decent value, but the Essential Credentials parallels are where the big value is found, and they're some of Shaquille O'Neal's most valuable cards ever – The green Credentials Now card is the rarest and most valuable version.
Green version PSA 10 average price: N/A (no data, estimate: $80k-$100k)
1997-98 Skybox E-X2001 Jambalaya Shaquille O'Neal #7
Another entry to the list from 1997-98 Skybox E-X2001 – This time it's from the Jambalaya insert subset, which had a unique design, and are some of the most popular die-cut basketball cards.
Shaquille O'Neal is one of fifteen names on the checklist for the Jambalaya insert, and his rare card holds a lot of value.
PSA 10 average price: $12k-$15k
1998-99 Skybox Molten Metal Fusion Titanium Shaquille O'Neal #45F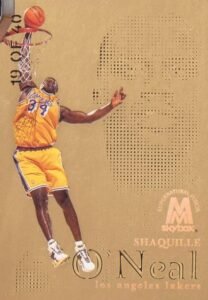 The 1998-99 Skybox Molten Metal Fusion Titanium Shaquille O'Neal card offers something different, with a pointillist portrait of the basketball icon on the right, and an image of him in action for the Lakers on the left.
The stylish card is numbered and limited to 40 copies, and is very valuable.
PSA 10 average price: N/A (no data, PSA 9 average price: $28k-$30k)
1998-99 Upper Deck Game Jersey Shaquille O'Neal #GJ4 & #GJ34
Notable for being the first relic cards for Shaquille O'Neal, the two different Shaq Game Jersey options from 1998-99 Upper Deck.
The big appeal is the game-worn jersey piece, which contributes to the high value.
The #GJ4 card features silver font and was available in both retail and hobby products, while the #GJ34 card features gold font and was only released in hobby packs.
PSA 10 average price: $1,300-$1,500
1998-99 Metal Universe Precious Metal Gems Shaquille O'Neal #25
After the success and popularity of the first Precious Metal Gems cards from 1997-98, they returned in 1998-99 Metal Universe, and while they don't hold as much value as those from the year before, they're still very valuable and sought-after cards.
The popular parallel featured a bright gold background, and was numbered to just 50 copies – It's another top Shaquille O'Neal basketball card.
PSA 10 average price: N/A (no data, PSA 8 average price: $24k-$26k)
1999-00 Skybox Premium Autographics Shaquille O'Neal Autograph #80
Shaquille O'Neal didn't feature in the first three Autographics releases, but collectors finally got a card for him in 1999-00 Skybox.
The signature is the big pull on this one, and there's also a Century Marks parallel version, which is limited and hand-numbered to 10 copies.
PSA 10 average price: N/A (no data, PSA 9 average price: $500-$1,000)
Shaquille O'Neal Dual Autograph Cards
Shaquille O'Neal has a good amount of dual autograph cards, with other stars from the NBA, and some have big values.
Notable examples include the 2000-01 or 2002-03 Topps Stadium Club Shaq and Tim Duncan dual autograph cards, and the multiple different Kobe Bryant dual autograph cards – His Lakers teammate, who he shared a lot of success with.
The top option is the 2015-16 Immaculate Collection Dual Autographs (#41) Shaquille O'Neal / Kobe Bryant card, pictured above, which was limited to just 25 copies.
Modern High-End Shaquille O'Neal Autograph And Patch Cards
There are numerous high-end Shaquille O'Neal cards from super-premium Panini products, like Flawless, National Treasures and Immaculate, which are among his most valuable cards.
There isn't necessarily a stand-out choice, but the top options include an on-card signature, memorabilia patch, and a low print run – They're high-quality and desirable cards, which generally hold big value.
What Is The Most Expensive Shaquille O'Neal Basketball Card?
The most valuable Shaquille O'Neal card of all time is the 1998 Metal Universe Precious Metal Gems Green (#50) card, which is limited to just 10 copies.
The rarity of the card means there's not a lot of previous sales data, but the average price of a low-graded PSA 4 is $160k-$180k. If a copy ever surfaced in the highest grade, like a PSA 10 or BGS 10, I would expect it to be worth upwards of at least $500k.
The 1998 PGM set is a favorite among collectors, and holds a special place in the basketball card hobby, which helps drive the value of this card.