Many different basketball card products are released every year, ranging in price and quality, from entry-level, mass-produced brands, to the most premium and expensive basketball card boxes – So, what are the best basketball card boxes to buy?
For anyone new to basketball card collecting or investing, it can be difficult to know the best packs to buy, because of the variety of choices that's on offer these days.
In my opinion, the best all round basketball card box to buy, for regular collectors, is Panini Przim.
However, finding the right products for you depends on your goal – This guide takes a look at the best basketball card products from a pure collecting and having fun ripping packs perspective, a potential return on investment perspective and the best products for the most premium and high-end basketball cards, for those with the biggest budget.
Best Basketball Card Boxes At A Glance
In a hurry? The list below shows a quick summary of the best basketball card boxes to buy, depending on what you're after.
Chronicles – Fun to rip
Hoops – Fun to rip
Prizm – Fun to rip, potential ROI
Donruss Optic – Fun to rip, potential ROI
Select – Fun to rip, potential ROI
National Treasures – Premium
Flawless – Premium
Immaculate – Premium
Now let's take a look at the list of the best basketball card products in more detail:
The Best Basketball Card Boxes For Collecting And Having Fun Ripping Packs
Some of the basketball card products below don't necessarily command much value on the secondary market, but, for many, the basketball card hobby isn't all about selling cards to profit.
The following sets are usually easily accessible, and generally cheaper retail options, with a lot of packs and cards, that often have a decent design. They're perfect for anyone new to the basketball card hobby, or just wants to have some fun opening boxes and packs of cards.
Panini Chronicles is a great option for collectors who enjoy the ripping packs and collecting element of the basketball card hobby.
Many see Chronicles as a go-to for new collectors – It's usually one of the best value basketball card products, with plenty of hits and an entry-level price point.
The cards don't generally hold high values, but they usually have a nice design and boxes/packs are loaded with rookies and a variety of sets.
Another entry-level basketball card brand is Panini Hoops.
This one has a lot of similarities to Chronicles – It's a set perfect for those in the hobby who value ripping packs and collecting cards, but the cards won't really hold high values for those interested in return on investment.
As one of the cheaper basketball card products, and with a chance at some nice hits and inserts, Hoops is definitely a good fun to rip basketball card product.
Panini Prizm has long been one of the most well-known and popular Basketball card brands, with the highly sought-after Chrome cards offering a wide array of parallels for collectors to chase.
Prizm sets are generally loaded with rare parallels, eye-popping inserts and autographed cards, and make for a fun rip.
The retail boxes are a good option for collectors who want a set that's fun to open, and relatively cheap.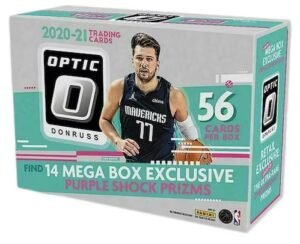 Donruss Optic is another staple brand in the basketball card hobby. The popular Panini set features chrome card designs which usually resonate well with collectors.
With a decent amount of packs in a retail box and some big hits, like the Rated Rookie line, to chase, it's a set that makes for a fun rip.
A favorite of many in the basketball card hobby, Panini Select offers great competition to Prizm in every sense of the word – It usually delivers on quality and style with the cards, and the variety within the sets make for an enjoyable rip.
The Best Basketball Card Boxes For Potential Return On Investment
It's important to know that buying basketball card boxes as an investment, with solely ROI in mind, that opening sealed wax (sealed card boxes) is often a bad idea. This is because the resellers who sell these boxes often remove the cards prior to selling them, which reduces their value.
Usually there's more profit in buying a sealed retail or hobby box, and selling the sealed box later on the secondary market – Many collectors are willing to pay for the chance to hit a valuable card, and if they can't get hold of the box, or they sell out in stores, they're often willing to pay more, on the secondary market, than the original buy price.
Opening sealed basketball card boxes and selling the cards inside is very much a gamble, high-risk with high-reward – Generally, the cards inside have less value, sold individually, than the sealed wax itself. However, there is the chance of packing a highly valuable card which can sell for more than what was paid for the box, and in some cases far more.
With that in mind, let's look at the best basketball card brands to buy for the best chance of a return on investment.
Although they cost more to buy than retail products, hobby boxes include more of the rarer and higher-end cards, so the odds of getting a big hit is higher.
Panini Prizm base cards generally hold more value than a lot of other basketball brands' base cards.
Sometimes, the ceiling of Prizm's retail boxes is maybe a bit low, in terms of the huge hits, but the parallels on offer, particularly the Silver Prizm cards, which are one of the hobby's signature parallels, can be a worthwhile chase.
While they require a bigger initial investment, the Prizm hobby boxes offer a wide array of big-hitting numbered parallels, autos and popular inserts.
The ceiling of Panini Select is not just high for hobby boxes, but also retail boxes – It's usually one of the best retail basketball card products to open.
With some huge cards to chase, from popular parallels, like the highly sought-after Tiger and Zebra prints for example, to inserts and autograph cards.
Select is one of the most popular basketball card products for a reason, and it definitely offers a decent potential for a return on investment with all the big hits it has to chase.
Donruss Optic is another basketball card set that usually offers a good potential return on investment.
The Optic Holo parallel is similar to Prizm's Silver parallel, as one of the hobby's signature parallels, they hold good value.
There's also the popular Rated Rookie line to chase, as well as a host of other popular parallels and inserts.
Hobby boxes of Optic will also have the potential for some big hitting autograph cards.
The Best Basketball Card Boxes For Premium Football Cards
Panini releases multiple premium basketball card sets every year, which are for collectors and investors with a bigger budget than the average collector.
The sealed boxes for these high-end products are not cheap to buy – They'll cost thousands of dollars, and even into the tens of thousands for some. They aren't a feasible option for the majority of collectors in the hobby.
With a high price, comes a potential high reward. While most of the boxes won't be worth opening from an ROI perspective, there's the potential for some massive hits in these boxes, and for those who can afford it, that can make for a fun rip.
Packs from these premium basketball card products include high-quality cards with classy designs, and often on-card signatures and memorabilia patches, sometimes match-worn.
Here's a look at a few of the best premium basketball card packs and boxes to buy.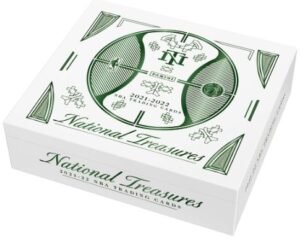 Arguably the most well-known premium sports card brand is Panini National Treasures. Many in the hobby consider National Treasures to be the top and most important premium Basketball card brand.
The Rookie Patch Autograph (RPA) cards, in-particular, carry the highest premium. The RPAs are usually numbered to /99 with some additional parallels, include a jumbo patch and are the most valuable RPA cards in the hobby, most of the time.
There's a range of big-hitting cards to chase in NT, and it's certainly one of the best premium Basketball card products.
Another important premium set which rivals National Treasures, with some great relic and autographs cards, and RPAs.
Many in the hobby consider this as the best premium basketball card product – It's a popular product which generally holds very high values.
There's usually numerous low numbered gem base cards to chase, auto cards and RPAs, with classy designs and a high-quality finish.
Panini Immaculate is another popular top-end, premium sports card brand.
The rookie patch autograph cards are arguably the most notable cards from the Immaculate sets, although they aren't quite on the level of National Treasures – Immaculate doesn't hold the same brand prestige as National Treasures.
The sets generally include a variety of very limited auto cards and memorabilia cards to chase.