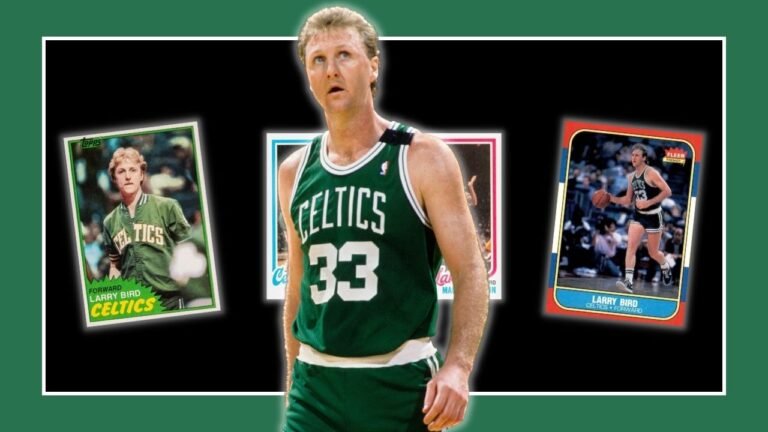 One of the greatest players to ever grace the NBA, Larry Bird was quickly a star in his professional career, after being named rookie of the year in 1980.
The highly-decorated Boston Celtic's great went on to have a Hall of Fame career as a player, and successful stints as a head coach and team executive as well.
Bird has a strong reputation in the basketball card hobby, and it's no surprise that he's one of the most collectible names among retired players.
Along with Lakers rival Magic Johnson, Larry Bird carried the basketball card collecting hobby in the early 1980s, before Michael Jordan came along, and has some of the most valuable cards from that decade.
The timing of his prime playing days was unfortunate, coinciding with an era of very little NBA card releases from major brands, and then the Junk Wax Era of the late-80s and early-90s, where cards were worth very little.
Having said that, "The Hick From French Lick" still has a solid offering of cards, with some very valuable options from across his career, and many after his retirement.
This list below takes a look at the best and most valuable Larry Bird cards of all-time.
1980-81 Topps Larry Bird Rookie Card #34 / Julius Erving #174 / Magic Johnson #139
This card will need little introduction to those who know anything about basketball cards from the 1980s, it's an iconic card in the hobby, and one of the most desired and valuable sports cards of its era.
Not only is it Larry Bird's rookie card, but also fellow Hall of Fame player and long-term rival Magic Johnson's. Julius Erving completes the star-studded Hall of Fame trio, to make for a legendary and very popular card.
Featuring three icons, and the sole rookie card for two of them, it's no wonder this card is one of the top Larry Bird options. It's also hard to find in top condition.
Other Valuable Larry Bird Cards
1981-82 Topps Larry Bird #4
The first solo base card for Larry Bird came a year later than the famous Topps trio card, in the 1981-82 Topps basketball set, which was Topps' last basketball release until 1992.
By the time this card was released, Bird was already a star, having won the rookie of the year award in his first season.
This one is a card that's hard to find in top grade and condition, partly because the thin border makes it hard to find perfectly centered – Ungraded, and lower grade prices for this one are reasonable for an early Larry Bird base card.
1983-84 Star Company Larry Bird #26
Coming in the middle of a basketball card drought, the 1983-84 Star set was the first NBA release after the 1981-82 Topps set, and collectors would have to wait until the 1986-87 Fleer set for the next major release.
That lack of option perhaps adds to the significance and value of this short-printed Larry Bird Star card.
It's a hard card to miss, with the green border, and it holds good value.
1986-87 Fleer Larry Bird #9
The 1986-87 Fleer set features a card design that's etched in the history of sports cards as one of the most recognizable and iconic designs of all-time. It's fair to say the set is most known for the famous Michael Jordan rookie card, but Larry Bird was another star name on the big-hitting checklist.
In a set full of big names and desirable cards, cards are very popular among collectors – Mixed with the iconic design, it makes this one a top Larry Bird option, which holds good value.
1993-94 Topps Finest Larry Bird #2
The 1993-94 Topps Finest set featured Larry Bird on the checklist, despite him retiring in 1992.
The base card is a decent option, which can be picked up for very little, but the value is found in the Refractor parallel, which is a hugely popular parallel from the time, and it offers a harder chase for this Bird card.
Upper Deck Exquisite Collection Larry Bird Autographs And Patches
The 2003-04 Upper Deck Exquisite release signaled the start of an era of premium and high-end basketball cards, which Exquisite became the king of over the next half-decade.
Stars of the NBA, both past and present, were included in the desirable sets, and the Limited Logos line quickly became a hobby favorite, featuring hard-signed autographs, jersey patches and limited, serial-numbered cards.
Arguably the most popular for Larry Bird is the Limited Logos card from the 2003-04 set, which is pictured above. However, there are plenty of other options, which are also highly sought-after and valuable, including the Bird, Jordan and Johnson Triple Logoman card, released in 2008, which is one of the most expensive cards, featuring Larry Bird, of all-time.
Other Larry Bird Autographs And Patches
When it comes to Larry Bird autograph cards, with some including material patches, there's a decent amount of choice, particularly from releases during the 2000s.
Many of these premium cards have very limited print runs to go with the desirable signatures and patches, so they generally hold good value. Many feature Bird alongside other stars of the NBA as well.
While there's too many to list individually, these types of Larry Bird cards are among his most valuable basketball cards of all time.
Here are some key examples:
1993-94 NBA Hoops Dual Autograph Larry Bird & Magic Johnson #MB1
Another card featuring both Larry Bird and Magic Johnson, and another iconic basketball card all-timer, is the 1993-94 Hoops dual autograph card.
It came as a redemption, and it's a card that was very much ahead of its time, with two elite signatures on one card.
It's very rare, and if you do manage to come across one, it'll cost a lot to buy. Collectors are safer to buy graded versions, because it's a card notorious for counterfeiting.
1998-99 Upper Deck Century Legends Epic Signatures Larry Bird Autograph #LB
Upper Deck became the first mainstream brand to feature a certified solo Bird autograph.
Despite the lack of serial-numbering on the card, this Epic Signatures gem is very rare and extremely tough to find; If you do, it'll cost a lot to buy.
A hand-numbered Century parallel does also exist, limited to just 33 copies.
2002-03 Ultimate Collection Signatures Larry Bird Autograph #LB-S
Another signature card with a classy design, the 2002-03 NBA Ultimate Collection card is another top Larry Bird auto option.
The regular card holds high value, but collectors who want a harder and even more valuable chase will be interested in the Gold parallel, which is hand-numbered to 33 copies.
2020-21 Panini Immaculate Larry Bird / Luca Doncic Logoman Autograph #LLD
A blockbuster card, which pairs two of the NBA's stars past and present, the 2020-21 Immaculate Collection included this Dual Logoman autograph card of Larry Bird with Luka Doncic – A concept which appeals very highly to collectors.
Helped by being a 1 of 1, it's one of the most expensive Larry Bird cards of all-time.
When Was Larry Bird's Rookie Season?
Larry Bird's rookie season was the 1979-80 NBA season – He was selected as the 6th overall pick by the Boston Celtics in the 1978 NBA Draft.
What Is Larry Bird's Rookie Card?
Larry Bird's official NBA rookie card, is the 1980-81 Topps Larry Bird (#34) / Julius Erving (#174) / Magic Johnson (#139) card, which is one of the 1980's most valuable sports cards.
It has added significance by also being the rookie card of fellow Hall of Fame player Magic Johnson.
What Is The Most Valuable Larry Bird Basketball Card?
The most valuable basketball card featuring Larry Bird is the 1980-81 Topps Larry Bird (#34) / Julius Erving (#174) / Magic Johnson (#139) card, which is his sole rookie card.
It's an unusual card because it's the only rookie card for two NBA Hall of Fame players, both Bird and Magic Johnson. It also includes a third Hall of Famer, Julius Erving, and it's tough to find in top condition – All these factors add to its high value.