Stephen Curry has established himself as one of the greatest players the NBA has ever seen – There's no doubt he's up there with the likes of Michael Jordan, LeBron James and Kobe Bryant, among others.
Not only is Steph Curry a likable character, with a clean image, he's also an exciting player. As one of the best all-time three-point shooters, he's got the whole package.
His popularity had a sharp rise in 2015, when he led the Golden State Warriors to the NBA championship for the first time, with subsequent NBA titles coming for Curry in 2017, 2018 and 2022.
The 2 time NBA Most Valuable Player award winner, and 8 time NBA All-Star has only risen in status and popularity since that first championship in 2015, so naturally his basketball cards are in high-demand.
Curry's rookie year was a significant one for NBA cards in general, because it was the year Panini won the deal to exclusively produce NBA cards – Although Panini's deal started in 2009, other Manufacturers, like Topps and Upper Deck, did manage to release some Steph Curry rookies before their deals ran out.
There's 27 different Steph Curry rookie cards, so there's lots for collectors to choose from, with the higher-end more valuable options being autographed and patch cards.
Stephen Curry is popular not only as a basketball player, but within the sports card hobby as well – His rookie cards are some of the most sought-after modern NBA cards out there. 
Let's take a look at the 10 best and most valuable Stephen Curry rookie cards, in no particular order.
What Are The Best Steph Curry Rookie Cards?
2009-10 Playoff National Treasures Stephen Curry #206
The 2009-10 Playoff National Treasures Steph Curry rookie card is without a doubt his most valuable rookie.
There are a few reasons why this card holds more value than the rest of his rookie cards – Firstly, there's only 99 copies of the card in existence, making it Curry's rarest.
The high-end Panini National Treasures product also features a large patch which adds to the appeal, as well as an on-card signature from Curry.
The card also shows an image of Steph Curry in the Warriors jersey, with the word 'Rookie'.
2009-10 Crown Royale Stephen Curry #103
The Crown Royale card ticks a lot of boxes when it comes to what collectors want from a rookie card, and that makes it one of Steph Curry's more popular rookies.
Although the checkered background is a little random, the bold gold foil crown on the die-cut design and the on-card signature gives the card a lot of appeal. 
It's another which is quite rare, with only 399 copies.
2009-10 Panini Classics Stephen Curry #166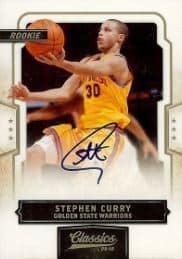 Although the Panini Classics Stephen Curry rookie card isn't as scarce as some of his other auto rookie cards, with 499 copies released, it does hold more value than many of the others because of the on-card signature, which is a major selling point.
A lot of Curry's auto rookie cards have signature stickers as opposed to this hard-signed option, so while it might be slightly easier to get hold of, the selling point is the signature, and therefore it tends to hold a higher value.
2009-10 Exquisite Collection Stephen Curry #64
As mentioned earlier, although Panini won exclusive rights to NBA cards in 2009, a few of the other manufacturers did manage to release a Steph Curry rookie before their deals ran out, and this card is one of those, released by Upper Deck.
Exquisite cards were some of the first high-end premium cards the basketball card hobby had seen back when they were first released in the early 2000s, and the 2009-10 Curry Exquisite rookie card is part of the last released set.
The brand and product carries weight, and this is a popular Steph Curry rookie card. It's one of his rarest as well, with only 225 copies. The on-card signature adds to its already high appeal.
2009-10 Playoff Contenders Stephen Curry #106
Another popular Stephen Curry rookie card entry is the 2009-10 Playoff Contenders card, which bears similarity to some other sports cards, particularly some we see in football.
While it isn't a numbered card, it does have a big on-card signature, so it does hold good value.
2009-10 Limited Phenoms Stephen Curry #156
The 2009-10 Limited Steph Curry rookie card is another of his rarest, with just 299 copies released.
The card uses a bold foil stock with a colorful design – The selling point for this card is the autograph, although it's a sticker auto, and the jersey swatch.
2009-10 Absolute Memorabilia Stephen Curry #144
The 2009-10 Absolute Memorabilia Curry rookie card has quite a lot going on – It's a busy looking card, but has some nice touches.
It has an autograph sticker, but it's the relic pieces in the 'NBA' letters that take up the majority of the card, with only a small section devoted to the image of Steph Curry himself.
This is another that is quite rare, with only 499 copies.
2009-10 Court Kings Stephen Curry #129
The 2009-10 Court Kings Stephen Curry rookie card offers an artistic design and a nice card.
Although quite subtle, the card includes an autograph, which is a sticker rather than an on-card signature. It is one of his more common autographed rookie cards, with 649 copies.
2009-10 Topps Chrome Stephen Curry #101
Topps did manage to release this Steph Curry rookie card as part of the 2009-10 Topps Basketball set, which was their last in the sport before Panini's exclusivity deal.
While it hasn't got an autograph or patch on the card, like most of Curry's valuable rookie cards, it does have more of a market than his other basic rookies. The base card is numbered to 999, with a couple of more scarce and valuable parallels.
2009-10 Rookies And Stars Stephen Curry #136
This card does have a large material patch, taking up pretty much the whole card, but it's worth noting it is not match-worn jersey material, which is a shame.
The appeal does come from the large signature which is signed directly onto the material, something that increases the demand for the card, which is limited to 449 copies.
When Was Steph Curry's Rookie Season?
Stephen Curry's rookie season was the 2009-10 season – He was selected as 7th overall pick by the Golden State Warriors in the 2009 NBA Draft.
Frequently Asked Questions About Stephen Curry Rookie Cards
How Much Is A Steph Curry Rookie Card Worth?
The value of a Steph Curry rookie card depends on a number of factors. He has 27 different cards from his rookie year, with varying levels of rarity. The rarer Steph Curry rookie cards, which have autographs and jersey patches, can sell for hundreds of thousands of dollars.
Steph Curry is a popular player, and one of NBA's greatest ever, so his basketball cards are in high-demand, his rookie cards do hold a lot of value.
What Is The Most Valuable Steph Curry Rookie Card?
The 2009-10 Panini Playoff National Treasures (#206) card is the most valuable of all Stephen Curry rookie cards.
Is A Steph Curry Rookie Card A Good Investment?
Steph Curry has established himself as one of the NBA's greatest players of all time. He's a popular player, with a clean image, and his rookie cards should do well over time. 
Some of his rookie cards already sell for big money, but there are scarce autographed options, like a few that have been listed above, which are still good value, and could definitely rise in value over time.
What Year Were Steph Curry Rookie Cards Released?
Stephen Curry's rookie cards were released in 2009, ahead of his debut 2009-10 season in the NBA.