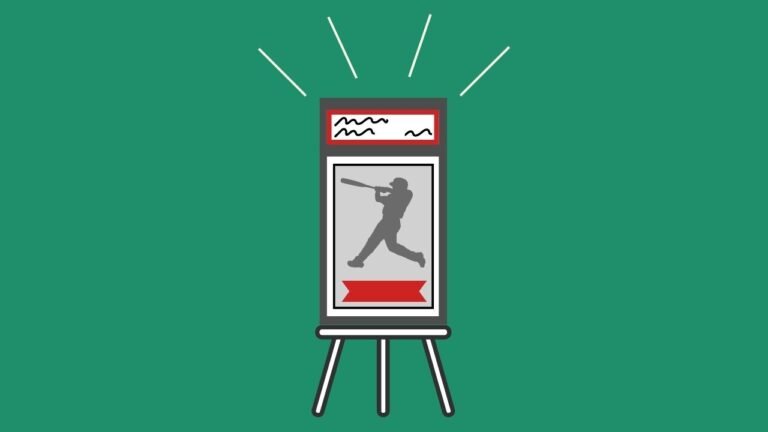 If you're a collector of sports cards, chances are you've got a small group of cards you consider your favorite and most-valuable to you.
If you're anything like me, you could fill the displays below multiple times over, because we don't have a collection to just store away, we want to see them front and center in our home.
So if you're looking for the best trading card display options to show those prized cards off, while keeping them safe and sound, we've got you covered.
There's a wide variety of options when it comes to card displays, with some holding more than others, some mounted on walls, customized displays, and so on.
The list below runs through our 5 top picks for safely displaying collectable cards
What Are The Best Card Displays?
When it comes to displaying collectable cards, our go-to place is Stand Up Displays.
A card stand is the perfect way to display and show off your best cards – They're a simple, yet effective tool to display cards on surfaces like desks and shelves.
A good idea for card stands like this is to put the card into a card sleeve and toploader, if they're not already slabbed, to make sure they stay protected from damage.
Stand Up Displays have an array of card stand products to display raw, slabbed or graded cards – And there's something for all types of collectors, from basic plain stands to customizable stands, and even jersey stands for sports cards.
I love the ability to customize and pick styles to fit the card being displayed with this option, it makes for a clean and stylish looking display for any type of card.
They're sturdy and well-made, so there's no worry of damaging the cards being held.
Our readers get a 15% discount for the Stand Up Displays store – just use code: SCSpecialist
A nice option to safely display multiple cards from your collection, is the Verani wall-mounted card display case.
The wooden case has shatterproof acrylic glass with UV protection to show off your collection while keeping them safe – The lock on the side is also a nice added touch.
It's an option that can fit all types of cards, and with the anti-slide material on the inside to make sure your valuable cards stay put.
As the name suggests, the case can be mounted onto a wall, so you can choose a good spot to display your cards.
Next on our list of the best trading card displays is the Wildnut double-sided Card Display Case.
The case offers something different because it's transparent from both sides, so you can display the front of the card which is always important of course, but you've also got access to see the back of the card, which many collectors want as well.
It's nice to have this one sitting on a desk displaying a few of your cards, both front and back, with its simplistic, yet stylish design.
This one is made of high-quality, transparent Acrylic, so your cards are kept safe inside from dust and water etc.
Another good option to display your card collection is this card display shelf.
The tiered design allows you to stack cards and display them together. It fits both grade slabbed cards and raw, so it's an option for any collector.
Again, for ungraded cards that aren't slabbed, I would recommend putting cards into a card sleeve and toploader before putting them onto this display shelf, just to make sure they're protected from damage and bending.
This display shelf offers a nice low-cost card display option.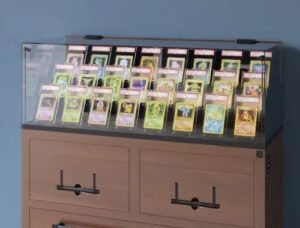 The collectable card display cabinets from Collectors' Cabinets are probably the most sophisticated looking trading card displays I've seen.
The impressive cabinets wouldn't look out of place in the fanciest of offices, and are essentially a whole piece of furniture dedicated to showing off your card collection.
The museum style displays are bespoke and tailor made to fit requested needs – the high-grade durable glass, LED lights, stands with foam-lined cases and cabinet key locks allow you to display your cards stylishly and safely.
This card display option is for collectors with a bigger budget, something high-quality and bespoke like this doesn't come cheaply.
This one would've come in higher on our list if it wasn't for the big drawback of accessibility, the UK based company currently only ships their cabinets to the UK, so for the US and the rest of the world, they're unavailable.
Should I Display My Cards In A Toploader?
I would always recommend putting your valuable ungraded cards into a card sleeve and toploader, whether you're storing, shipping or displaying them.
Cards that are displayed and stored without the protection of a toploader are more prone to damage and bending – All the card displays listed above will fit a card inside a toploader, so it's well worth doing to preserve their condition and avoid unnecessary damage.
What Is The Best Way To Display Trading Cards?
The best way to display a trading card is to place it inside a card sleeve and toploader, and then place it on a card stand from Stand Up Displays, which can be positioned where you would like, on a desk or shelf, for example.