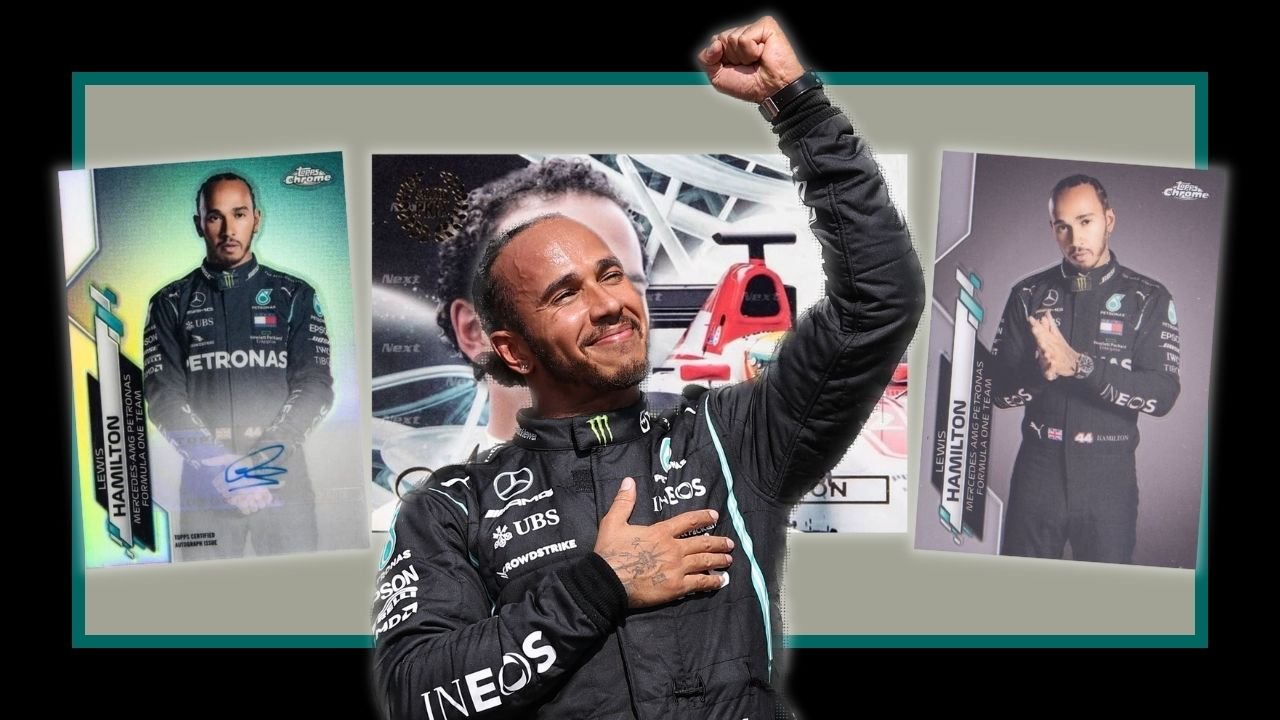 Lewis Hamilton is without doubt one of the greatest Formula One drivers of all time.
He often divides opinions between fans of the sport, but most can agree that he's one of the greats.
For me, the best Lewis Hamilton card is his 2020 Topps Chrome Autograph card, but his most valuable, in terms of previous sales, is the unsigned 2020 Topps Chrome #1 card's 1-of-1 Superfractor parallel.
F1 sports cards are rising in popularity, as the sport has benefitted from higher interest and popularity in recent seasons, and Hamilton's cards are naturally in high demand among card collectors.
Hamilton has some of the rarest and most valuable F1 cards, so let's take a look at some to look out for.
The Most Expensive Lewis Hamilton Cards Ever Sold
The Top Lewis Hamilton Cards
2005 Formule Lewis Hamilton #167
Hamilton's first card goes as far back as 2005, and was released by Czech magazine publishers Formule.
At the time of release, Hamilton was in Formula 3, which is why it has 'F3' on the front; The back of the card has some information, written in Czech, about Hamilton and his achievements from 1995 to 2004.
The card is very rare, with very few top grade versions in existence, which helps make it one of Lewis' most valuable cards ever; A PSA 9 version sold for as much as $39,600 in the past.
2006 Futera Grand Prix Lewis Hamilton #95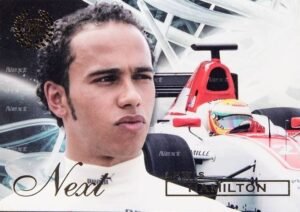 Although it came after the 2005 Formule card, this 2006 Futera Grand Prix card is considered by most collectors to be Lewis Hamilton's rookie.
It's status as a 'rookie card' can be questioned, because it was released while Hamilton was competing in the GP2 Championship, which he went on to win, and not yet Formula 1 – It can perhaps be considered the equivalent of a baseball player's minor league card.
The card itself is extremely rare and hard to find, and is far more valuable than his 2005 Formule card; In fact, it's Hamilton's second most expensive card ever released (the most valuable if you exclude parallels), and one of Formula 1's most valuable and sought-after cards.
Back in 2022, a copy of the card was sold for $312k in a PSA 9 grade.
2009 Top Trumps Tournament Sporting Heroes Lewis Hamilton
The 2009 Lewis Hamilton Top Trumps card is an oddball release, and by no means mainstream, which makes it hard to come by.
Top Trumps is primarily a game, popular mainly in the UK, where the aim is to compare the stats and attributes on a card to try to trump and win an opponent's card, until your opponent has no more cards; Certain Top Trump cards have become more collectible in recent years, like this Hamilton card, but the fact a lot of them were used to play the game, as primarily intended at the time, makes it hard to find them in top condition.
Hamilton's card shows a picture of him celebrating and includes the number of world titles he had won at the time, which was one. The card also includes a description, which mentions his record of being the then youngest ever Formula One world champion.
It's a good option for collectors who want an early Hamilton card, at a fraction of the price of some of his others, although it does still hold reasonable value.
2009 Sports Illustrated For Kids Lewis Hamilton #360
The 2009 Sports Illustrated for Kids Lewis Hamilton card shows him in his earlier F1 days, driving a McLaren car and is also a hard card to come by for collectors.
It was released on a perforated sheet along with 8 other sports stars – which means the standalone card will have ragged edges, where they've been removed from the perforated sheet, which obviously affects its condition.
Despite that, it's still significant for being one of his earliest releases following his Formula 1 professional debut, and its scarcity in high grades make it a valuable card.
2020 Topps Now Lewis Hamilton #3
Topps acquired the F1 license in 2020 and released a Hamilton card in their Topps Now series, which are usually cards that feature a memorable or big sporting moment.
This particular card was released after Lewis' Tuscan Grand Prix win. The Topps Now cards are print-to-order – meaning collectors have a week to submit an order for the card, and the print run is based on how many were ordered. For this card, the print run was 1,915.
He has multiple Topps Now cards from 2020, but this being the first gives it some added significance, and it holds reasonable value.
2020 Topps Chrome Formula 1 Lewis Hamilton #1
For the first mainstream Hamilton regular release, from a major manufacturer, collectors can turn to the 2020 Topps Chrome Formula 1 set.
By then, Hamilton was already established as one of the greatest Formula One drivers of all time, so it's no surprise that he was featured on 17 different base cards out of the 200 in total within the set.
However, this #1 card is the clear favorite, and the most valuable.
While the regular base card is easily attainable and low value, the high value is found in the numerous Refractor numbered parallels.
The 1-of-1 Superfractor parallel is the most expensive Lewis Hamilton card ever sold, and the most expensive F1 card ever, having sold for $900k in 2022.
2020 Topps Chrome Sapphire Edition Formula 1 Lewis Hamilton #1
The 2020 Topps Chrome Sapphire Lewis Hamilton #1 card offers a more premium edition and alternative to the popular base Topps Chrome #1 card.
It's practically identical to the regular Topps Chrome card, but with the added cracked-blue style; The base card for this one is a lot more valuable than its regular base counterpart.
This one also comes with some parallel options, which hold far higher price tags.
2020 Topps Chrome Formula 1 Lewis Hamilton Autograph #LH
Lewis Hamilton also has a desirable Chrome Autographs card in the 2020 Topps Chrome F1 set, which is limited to just 58 copies.
The card has a similar design to the regular base card from the set, but with a slightly different image of Lewis, as well as the appealing signature, which is a sticker and not on-card.
The card also has some numbered Refractor parallels, including the most valuable 1-of-1 Superfractor version.
2020 Topps Chrome Formula 1 Variation Lewis Hamilton #1
A more limited variation version of the 2020 Topps Chrome F1 Hamilton card is also popular among collectors, but again, is hard to get hold of, due to its scarcity.
The leading image on this SSP card is different from the base card, and shows Hamilton sitting.
This one is issued as a Refractor, with no parallel options; Its scarcity makes it hard to find and expensive to buy.
2020 Topps Chrome Sapphire Edition Formula 1 Variation Lewis Hamilton #1
The 2020 Topps Chrome variation version is also included in the Sapphire Edition set, which adds the cracked-blue effect to the regular card.
Unlike the regular version, this Sapphire Edition variation card does come with multiple numbered parallels, which add even more color and value.
The Red parallel version (/5) sold for $56,400 in 2023, making it one of Hamilton's most expensive cards.
2020 Topps Dynasty Formula 1 Lewis Hamilton Autograph Patch
Collectors, who want rare and high-end Lewis Hamilton cards, can look at the 2020 Topps Dynasty set, which includes 8 different autograph relic cards.
Cards from the set include hard-signed autographs and relic swatches, to make for premium and appealing options.
All cards are also serial-numbered to just 10 copies for the base version, and some lower-numbered parallel versions.
They hold high values, and are easily among Hamilton's most expensive cards to buy.
2021 Topps Now Formula 1 Lewis Hamilton / Max Verstappen #78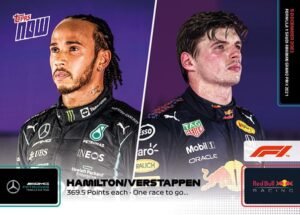 In 2021, Topps released this Now card, featuring Hamilton alongside his rival Max Verstappen.
The card was released to signify their close race for the F1 Championship title, where they were level on 369.5 points, with one race remaining, which Verstappen went on to win in controversial circumstances.
The base card doesn't hold much value at all, but there are the Teal & Red (/99), Black (/10) and 1-of-1 Gold parallel versions, which have much higher price tags.
The rarest, and most valuable, 1-of-1 Gold version sold for $36,600 in 2022.
Lewis Hamilton: A Background
Lewis Hamilton currently holds the joint record with Michael Schumacher for World Drivers' Championship titles (7). He also holds the current records for most wins, most pole positions and most podium finishes.
Hamilton joined the McLaren young driver program in 1998, but his 'rookie' season in Formula One came in 2007 as one of McLaren's drivers.
He set a number of records during his first season where he eventually finished runner-up to Kimi Räikkönen in the drivers' championship by one point – In 2008, the next season, he went on to win his first world title, becoming the then-youngest Formula One World Champion in history.
Hamilton then signed with Mercedes in 2013, where he has won a further 6 drivers' championship titles.
What Is The Most Valuable Lewis Hamilton F1 Card?
If you're going by previous sales, the most valuable Lewis Hamilton card is his 2020 Topps Chrome #1 1-of-1 Superfractor parallel, which sold for $900k in 2022.
However, I think the 1-of-1 Superfractor autographed card from the 2020 Topps Chrome set would be more expensive to buy, if it were to be listed on the market.
Is A Lewis Hamilton Rookie Card A Good Investment?
F1 cards are steadily growing in popularity, and the overall market has risen in recent years. As far as investments in rare F1 cards go, Lewis Hamilton is a safe bet, along with the likes of Max Verstappen, and there's no question his records and career achievements make him one of the all-time greats of the sport, and his card popularity among collectors will hold in years to come.