Marcus Rashford burst onto the scene in 2016, when an injury crisis at Manchester United forced the then manager, Louis Van Gaal, to hand him his debut in the Europa League – Rashford grabbed the opportunity with both hands and scored 2 goals.
Those goals made him United's youngest ever scorer in European competition (at the time), beating a record previously held by one of soccer's greatest ever, George Best.
He followed up his successful debut, by scoring 2 goals again, 3 days later on his Premier League debut.
The English inside-forward was already a star from there on – His explosive pace and power, mixed with his brilliant technical ability with the ball, makes him a nightmare for defenders, and an exciting player for supporters to watch.
Rashford is one of those players who are hard to dislike, regardless of which team your allegiances lie with. He's a player who is almost as well-known for his selfless work with local communities, as he is for his on-field soccer career.
He's had a few ups and downs during his career – his poor season in 2021-22 left many wondering whether he could fulfill his high potential, but after a stellar season in 2022-23, he's established himself as one of the best players in the world.
For soccer card collectors, there's not a huge choice of first year cards. Although he made his debut towards the end of the 2015-16 season, his first cards were released during his first full season, 2016-17.
His card values have been steadily rising along with his performances on the field. The list below details his first year cards, from both Topps and Panini, and also his most popular soccer card, which isn't a first year release.
When Was Marcus Rashford's Rookie Season?
Rashford's first full season was the 2016-17 soccer season, where he played for both Manchester United, and internationally for England – He made his debut for Manchester United towards the end of the 2015-16 season.
What Is Marcus Rashford's True Rookie Card?
2016-17 Topps Stadium Club Marcus Rashford #88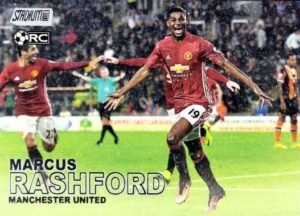 Technically speaking, if we're going by the first released Marcus Rashford card by date, the 2016-17 Topps Stadium Club Marcus Rashford rookie card has to be considered his true rookie – It was released in late 2016, before all his other rookies.
Is this one his most popular rookie card? No it's not, which I would partly put down to its horizontal design, but it's not a bad looking card, showing Rashford celebrating moments after scoring a very late winning goal, against Hull City, at the start of the 2016-17 Premier League season.
Despite it being his true rookie, it's not an expensive card to buy – There are also a couple of rarer parallels.
Other Marcus Rashford Base Rookie Cards
2016-17 Topps Premier Gold Marcus Rashford #71
The 2016-17 Premier Gold Marcus Rashford rookie card is a bit more popular than the Stadium Club true rookie, and holds more value.
The card itself has a dark theme, with an image of Rashford in his home Manchester United uniform – Overall, a clean and nice looking Rashford rookie card.
There are also a couple of parallels which offer a slightly harder, and more valuable, chase than the base card.
2016-17 Panini Select Terrace Marcus Rashford #77
As always, Panini Select worked with a tiered system for the 2016-17 set. There were 3 levels of unique base cards, with each getting rarer – Rashford was included in 2 of the 3 lists; He doesn't have the rarest (Field Level).
This Terrace card is the most common, and features Rashford in the white England jersey.
The base card itself isn't expensive to buy, but there are multiple rarer parallels which offer a slightly harder chase for collectors.
2016-17 Panini Select Mezzanine Marcus Rashford #151
Rashford also features in this Select Mezzanine card from the 2016-17 set – This is rarer than the Terrace card, and holds a bit more value.
It features an image of Rashford in the red England jersey, instead of the white one on the Terrace card.
Again, like the Terrace level card, this one has a few parallels to consider, which hold more value than the base card.
2016-17 Panini UEFA Euro 2016 Marcus Rashford Sticker #146x
The only rookie sticker that Marcus Rashford has is the 2016-17 UEFA Euro 2016 sticker – the set was released for the European championship international competition, which Rashford played in for England, as the tournament's youngest player.
You might wonder why the sticker number includes an 'x' – This indicates the Rashford sticker was part of the update set Panini released later than the initial checklist. He wasn't included in the initial release, and the print run for the update set would've been lower than the main release, so it makes this rarer than many of the Euro 2016 stickers.
As always, the Panini stickers are quite basic in design, and this is no different. Despite it being a sticker instead of a card, which isn't to every collector's taste, the relative rarity of it makes it one of his most valuable rookies.
2016-17 Topps Match Attax Premier League Marcus Rashford #195
Some collectors do not consider the 2016-17 Topps Match Attax Rashford card as one of his official rookies – Cards from these sets generally aren't that popular for soccer hobby collectors because they're heavily aimed at kids as part of a soccer card game using the attributes shown on the face of the card.
Despite that, it was released during the 2016-17 season, and presents another option for someone who wants to add a Rashford first year card to their collection – It's the cheapest of his first year cards.
He actually has a second card from the set, which has a similar, but different image of Rashford, and a glossy background/finish.
What Is The Most Popular Marcus Rashford Card?
2018 Panini Prizm World Cup Marcus Rashford #72
The most popular and sought-after Marcus Rashford card isn't one released during his rookie season – It's the Panini Prizm World Cup card from 2018, his first appearance in the highly popular Panini Prizm sets.
The card marks his first FIFA World Cup for England, which was the 2018 tournament hosted in Russia.
The base card is popular, but easy to get hold of and not expensive – Things intensify for value and rarity with the array of parallels, which is to be expected from a Prizm set, particularly the lower-numbered options.