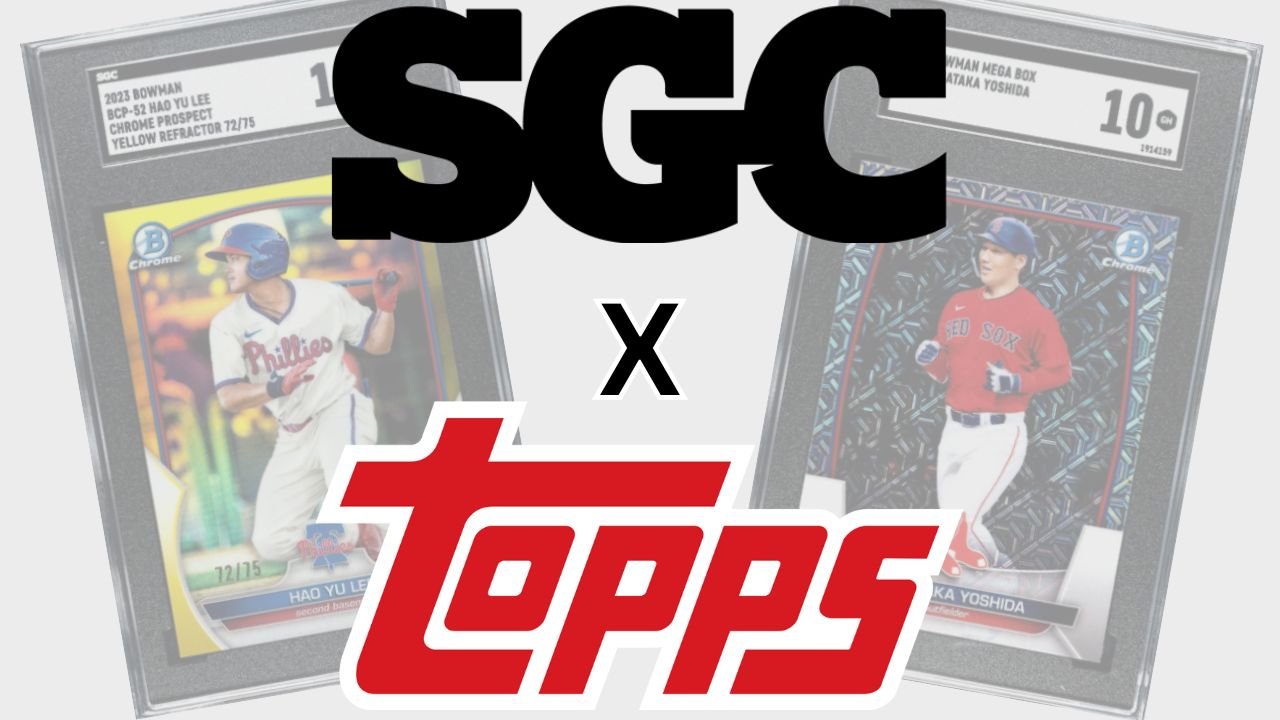 SGC's Bowman Special Offer
SGC have partnered with Topps to offer collectors a special offer on card grading for all 2022 and 2023 Bowman Trading Cards.
Qualifying cards can be graded with SGC for a reduced price of $9 per card, with a 5-10 business day turnaround time. For a quicker 1-2 business day turnaround, it costs $40 per card.
The price stays the same regardless of the declared value of the card that's submitted for grading.
The deal offers a significant discount from SGC's standard card grading prices, which were lowered in early September of this year; The lowest price of their standard services is $15 per card for a 5-10 business day turnaround, but that's only for cards with a declared value of less than $1,500.
The popular Bowman brand, which is owned by Topps, covered multiple sports in 2022 and 2023 releases – The following sets are eligible for SGC's $9 grading offer:
2022 Bowman
2022 Bowman 1st Edition
2022 Bowman Sapphire Edition
2022 Bowman Chrome
2022 Bowman Chrome Mega Box
2022 Bowman Chrome Sapphire Edition
2022 Bowman Chrome X
2022 Bowman Draft
2022 Bowman Draft 1st Edition
2022 Bowman Draft Sapphire Edition
2022 Bowman Inception
2022 Bowman NPB Nippon Professional Baseball
2022 Bowman Platinum
2022 Bowman Transcendent Collection
2022 Bowman Transcendent VIP
2022 Bowman's Best
2022 Bowman Heritage
2022 Bowman Sterling
2022 Topps National Wrapper Redemption Bowman Chrome
2023 Bowman
2023 Bowman 1st Edition
2023 Bowman Chrome
2023 Bowman NPB Nippon Professional Baseball
2023 Bowman Platinum
2023 Bowman Sapphire Edition
2023 Bowman Sterling
2023 Bowman's Best
2023 Bowman Chrome Mega
2022-23 Bowman Chrome U
2022-23 Bowman U Best
2022 Bowman Chrome U
2022 Bowman Next
2023 Bowman Chrome U
2023 Bowman's Best U
2023 Bowman U Now
2023 Bowman U Alabama
2022-23 Bowman U Best
2022-23 Bowman U Inception
2023 Bowman The National
How To Submit Eligible Cards For $9 SGC Grading?
If you have a Bowman sports card from 2022 or 2023, you can submit for grading via the usual way, either through the SGC website, or their mobile app.
A new order type has been added in step 1 of the submission process, titled 'Topps x SGC '22 & '23 Bowman Special' – Collectors with qualifying cards should select that option to receive the $9 pricing offer.