Erling Haaland has become a huge name in soccer, and the sports card hobby in recent times.
It's fair to say the Norwegian forward (born in July 2000) is a goal-machine, and recognized now as one of the top soccer players in the world.
Despite making his professional debut a few years earlier, soccer card collectors had to wait until 2019 for the first Haaland rookie cards.
Naturally, his rapid rise in the sport has also made him popular in the soccer card hobby, some of his earlier cards are hard to get hold of and very valuable.
In my opinion, the best Haaland rookie card is the 2019-20 Topps Chrome Bundesliga autograph card; The lowest-numbered parallels are also his most valuable rookies.
This post lists Erling Haaland's best and most valuable early soccer cards.
Erling Haaland: A Background
Erling Haaland's rookie season was the 2016-17 season, at the age of 16 for Norwegian side Bryne.
The big, powerful and explosive Haaland started really catching the attention of the masses during the 2019-20 season – Shortly after scoring 9 goals in a single game for Norway's under 19 side, Haaland started putting in some very impressive performances for his club at the time, Red Ball Salzburg in Austria.
His goal scoring numbers were matching the most experienced and best forwards in the world, and he notably became the first teenager to score in 5 consecutive UEFA Champions League games.
Midway through that breakthrough season in 2019-20, Haaland transferred to German side Borussia Dortmund, who have gained a reputation for developing young players, with potential, into top players. He went on to win the European Golden Boy award at the end of that season.
His transfer to the English Premier League came in 2022, when he moved to Manchester City – He ended his first season with them as the league's runaway top goalscorer, and the main man in the team's treble-winning season.
What Is Erling Haaland's True Rookie Card?
2019-20 Panini Fussball Erling Haaland Rookie Card #32
Although this has had some reprints since the original, the 2019 Panini Fussball sticker is considered to be Erling Haaland's true rookie card.
As with most Panini soccer stickers, the design shows a basic head and shoulder image of Haaland wearing an RB Salzburg jersey; Not exciting in design, but valuable because of its significance.
The sticker has had multiple reprint runs since the original because of the demand. The originals were more for Panini fans who wanted to complete the sticker albums it's intended for – Whereas there's certainly more of the reprints around for collectors, because many of them would've ended up with those in the collecting hobby who wanted the sticker after Haaland's rise in stature.
There are some subtle differences in the designs of the reprints, compared to the original, like darker colors and slightly different borders; If you want to make sure you're buying an original, it's safer to go with authenticated graded copies.
Reprints: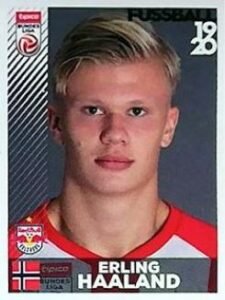 The original print is the version that will hold value, but the reprints are good options for collectors who want to add something which represents Haaland's rookie, at a much cheaper price.
Average price of a PSA 10 (original): $1.1k-$1.3k
Other Valuable Erling Haaland Rookies
2019-20 Topps Now Champions League Erling Haaland #11
Topps released a Now card for Haaland after he scored 3 goals in the Champions League against Belgian side, Genk.
The picture shows Haaland celebrating one of his goals with the caption 'wonderkid hits hat-trick'.
The Topps Now cards are print-to-order, and only 178 were printed, so it's really hard to get hold of, which only adds to its value.
Average price of a PSA 10: $3.5k-$4k
2019-20 Topps Finest UEFA Champions League Erling Haaland #91 & #EH
Another card released during the 2019-20 breakthrough season is the Topps Finest Champions League card; It's a popular Haaland rookie.
The regular Finest card shows an image of Erling Haaland in action for Salzburg, and while the base card holds a bit of value, the big price tags are found in the various Refractor parallel options, in particular the Gold (/50), Orange (/25), Red (/5) and Superfractor (1-of-1).
The elusive Superfractor is the most valuable version, but a copy of the Gold Refractor sold for as much as $27k in a PSA 10 before.
2019 Topps Finest UCL also included an Autographs card for Haaland, but unlike the regular base card, this one features him in a Borussia Dortmund jersey, following his mid-season transfer; this version also changes the spelling of his last name to the German spelling.
The autograph card is even more valuable because of the addition of the appealing signature, which is a sticker, but it is one of the cheapest signed Haaland rookies.
The auto card also has its own set of even more valuable Refractor parallels, with low-numbered options including the 1-of-1 Superfractor.
Average price of a PSA 10 (regular base version): $1.1k-$1.3k (/50 Gold Refractor PSA 10 average price: $15k-$15.5k)
Average price of a PSA 10 (autograph base version): $7k-$7.5k
2019-20 Topps Chrome Bundesliga Erling Haaland #72
The 2019 Topps Chrome Bundesliga Haaland card is one of the most popular and sought-after Haaland soccer cards.
Topps Chrome Bundesliga covers the German league, and features this Haaland card following his transfer to Dortmund.
Like the Topps Finest card, the base version is quite mainstream and not massively expensive to buy, because of the relatively high supply. However, big value is found in the Refractor parallels, in particular the lowest-numbered Orange (/25), Red (/10) and 1-of-1 Superfractor.
A copy of the regular Red Refractor card sold for a whopping $145k in a PSA 10 in 2021.
The regular version is expensive and popular, but there's the even more appealing sticker autograph version, which comes with Gold (/50), Orange (/25) and Superfractor (1-of-1) Refractor parallels.
The auto card is identical to the regular card, but with the signature added; The base version is unsurprisingly more valuable than the regular base card.
One of the Orange Refractor parallel versions sold for $125k in the past, making it another one of Haaland's most valuable soccer cards.
Average price of a PSA 10 (regular base version): $300-$500 (/10 Red Refractor PSA 10 average price: $140k-$145k)
Average price of a PSA 10 (autograph base version): $23k-$25k (/25 Orange Refractor PSA 10 average price: $70k-$75k)
2019-20 Topps Chrome UEFA Champions League Erling Haaland #74 & #CAEH
Topps also released a Chrome UEFA Champions League Haaland card in 2019.
Like with the other Topps releases in this list, the Chrome UCL set had a mainstream base card accompanied with some valuable Refractor parallels that hold much bigger price tags.
The 1-of-1 Superfractor parallel sold for just under $186k in a PSA 9 in 2021.
There is also a separate Sapphire Edition online-exclusive 2019-20 Chrome UCL release, which adds an RC logo (which for some reason wasn't included on the regular version), as well as the sapphire coloring to this Erling Haaland card; They're very popular rookies of his, and more valuable than the regular base card.
The Sapphire card has its own set of numbered color parallels, which are even more expensive.
Haaland has another appealing Autographs card in the Chrome UCL set, which again adds a sticker signature for added appeal, and has its own set of Refractor parallels.
Average price of a PSA 10 (regular base version): $500-$700 (1/1 Superfractor PSA 9 average price: $186k)
Average price of a PSA 10 (regular sapphire base version): $500-$700 (/25 Purple PSA 8 average price: $10k)
Average price of a PSA 10 (autograph base version): $9k-$9.5k
2019-20 Topps Museum Collection UEFA Champions League Archival Autographs Erling Haaland #AAGR
Aside from his base card in the 2019-20 Topps UCL Museum Collection release, Haaland has another sticker autograph rookie card option in the set.
Featuring him in action for Borussia Dortmund, the base card is one of the more affordable Haaland first-year autos, but is by no means cheap.
It has some low-numbered parallels, like the 1-of-1 Emerald version.
Average price of a PSA 10: $6k-$6.5k
2019-20 Topps Museum Collection Bundesliga Erling Haaland Autograph And Relic Cards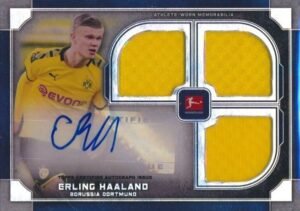 Erling Haaland has multiple relic and autograph cards in the 2019-20 Topps Bundesliga Museum Collection set, and all hold good value.
He's included in the Autograph Relics, Momentous Material Autograph Jumbo Relic, Museum Framed Autograph Patch and Single-Player Triple Relics Autograph (pictured above) checklists.
All of them are serial-numbered with some lower-numbered parallel versions, apart from the Museum Framed Autograph Patch card, which is a 1-of-1 with no parallels, and probably the most valuable card of his from the set.
They represent some of the best and most valuable Haaland rookie cards, particularly the low-numbered parallels.
When Was Erling Haaland's Rookie Season?
Erling Haaland's rookie season was the 2016-17 soccer season with Bryne – His rookie soccer cards were not released until the 2019-20 season.
Is Erling Haaland's Rookie Card A Good Investment?
As far as soccer card investments go, I think Erling Haaland is the player to buy right now.
Aside from the likes of Cristiano Ronaldo and Lionel Messi, who are greats of the sport and already have huge values on their cards, Haaland is the future, along with Kylian Mbappe.
I think particularly some of his limited parallels and autographed cards are soccer card investments that will very likely do extremely well in the future.
Even the original print version of his true rookie sticker, if kept in good condition, is a good long-term hold.
Haaland is already a superstar, and has a very bright career ahead of him.