After being selected with the 25th pick of the 2009 Draft, by the Los Angeles Angels, Mike Trout quickly established himself as a star of MLB, and in the baseball card collecting hobby.
Trout debuted in the Majors as a teenager, in 2011, and was one of baseball's top prospects – He went on to record one of the best rookie seasons of all time. Many MVP-level seasons later, Trout is considered an all-time great of the game.
Some of Mike Trout's most popular cards came as early as 2009, with some key signed prospect cards to look out for below.
His official rookie cards came in a handful of 2011 sets, but with no base autograph cards – The 2011 Bowman Sterling is easily his most valuable rookie card, but the 2011 Playoff Prime Cuts card is the rarest rookie. Some of his other key rookies are also listed below.
In this post, we've also taken a look at some of Trout's key, and most valuable, cards from 2012 onwards.
The Best Mike Trout Rookie Cards
2011 Bowman Sterling Mike Trout #22
The 2011 Bowman Sterling Mike Trout rookie card is not only very tough to find, but it's also his most sought-after and desired official rookie card.
The card features a slick and modern looking design. While the high-end base card holds good value, even more value can be found in the Refractor parallels, for collectors with a bigger budget
Trout also has a Rookie Autographs card from the set, but there's no base version, only signed Refractor parallels, so they make for a hard and expensive chase.
2011 Bowman Chrome Mike Trout #175
Bowman Chrome is a brand that is always popular with rookie card collectors in baseball, which gives this 2011 Bowman Chrome Mike Trout rookie card added appeal.
The card design itself is nothing spectacular, with a traditional black-border Bowman design.
More value can be found in the Refractor parallels for this one, most of which are serial numbered.
2011 Bowman Draft Mike Trout #101
This 2011 Bowman Draft Mike Trout rookie card offers collectors a lower-budget alternative to the regular Bowman Chrome rookie – It's one of his cheapest rookie cards.
It's still a popular option, and with it being under the popular Bowman brand, it's a good option for collectors.
The big value for this one is found in the lower numbered Refractor parallels.
2011 Topps Update Series Mike Trout #US175
The 2011 Topps Update Series Mike Trout card is a nice-looking and solid Trout rookie card option for collectors.
The base version of this is always in high demand, but there are also multiple parallel options, which add a bit of color.
2011 Playoff Prime Cuts Mike Trout #37
This 2011 Playoff Prime Cuts Mike Trout rookie card is the rarest of all Trout's rookies, numbered to just 99 copies.
It's a tough one to find, which will be expensive to buy if you do manage to come across it.
The Best Mike Trout Prospect Cards
2009 Bowman Chrome Draft Prospects Mike Trout Auto #BDPP89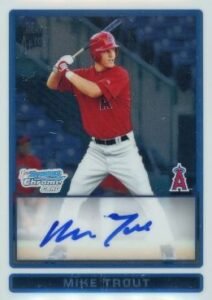 A player's first Bowman Chrome autograph card always holds significance, and while this 2009 Bowman Chrome Draft Prospects Mike Trout auto card is technically an insert, it's his key card to own.
It features an image of Trout in action with the bat in an Angels uniform, but the prominent on-card signature is the big appeal.
There are multiple Refractor parallels, which hold even more value than the base card.
2009 Bowman Sterling Mike Trout Auto #BSPMT
For collectors who can't afford the key Bowman Chrome autograph card, this 2009 Bowman Sterling prospect autograph card offers a good, cheaper alternative.
Although the autograph comes in the form of a foil sticker, it works well with the overall design of the card – It can be picked up for a fraction of the price of the Bowman Chrome auto.
There are also a few Refractor parallels for this one, which offer a tougher and more valuable chase to collectors.
2009 Donruss Elite Extra Edition Mike Trout Auto #57
Another autograph prospect card for Mike Trout is this 2009 Donruss Elite Extra card, which despite lacking MLB logos, is still desired.
It's another key Mike Trout prospect card, which offers an autograph at a much lower price than the Bowman Chrome auto card.
This one is numbered to 495 copies, which makes it quite scarce.
Other Most Valuable Mike Trout Baseball Cards
2012 Topps Triple Threads Rookie Stars & Future Phenoms Mike Trout Auto Relic #146
Mike Trout has numerous autograph and relic cards from the 2012 Topps Triple Threads set, but no unsigned base card.
This Rookie Stars & Future Phenoms autograph relic Trout card is a valuable option, with premium features like the on-card signature, and triple relic patch. It's also numbered to just 99 copies, with some lower-numbered parallels.
2012 Panini National Treasures Mike Trout Auto Patch #199
For modern rookies, we're used to seeing a National Treasures autograph card with a jumbo patch as one of their best premium offerings – For Mike Trout, collectors had to wait for his second year for an ultra-premium National Treasures option. 2012 was the debut year for Panini National Treasures Baseball.
It's a high-end card, with a simple but classy-looking theme, which features the premium on-card signature and jumbo game-used patch.
It's numbered to just 99 copies, with a few low numbered parallels, so it certainly holds value.
Trout has numerous other autograph and patch options from the 2012 set.
2013 Fleer Retro Precious Metal Gems Mike Trout #LV1
If you're a fan of basketball cards from the 90s, then you'll recognize the design used for this Mike Trout insert card.
As part of a promo, to promote the 2013 Fleer Retro Baseball set, Mike Trout had three insert cards in the style of the popular 1997-98 Metal Universe Basketball Precious Metal Gems design, which included iconic cards for the likes of Kobe Bryant and Michael Jordan.
The card was produced in Red (100 copies), Blue (50 copies) and Emerald Green (10 copies), to make three different cards, all serial numbered.
All three cards are highly sought-after and hold big value, particularly the rarest, Emerald Green card.
2016 Panini Flawless Mike Trout #36
The Premium Panini Flawless brand debuted in the baseball card hobby with the 2016 set, which offered collectors the first chance at a Mike Trout card from the high-end product.
The base cards, while not signed, hold the premium appeal of an embedded diamond gem, and are numbered to just 20 copies, so they're very rare and valuable.
There are four parallel options, embedded with different gems, which takes the total number of cards up to still just 51.
2017 Topps Diamond Icons Mike Trout Auto Patch #JPA-MTR
Diamond Icons is Topps' answer to Panini National Treasures – The set debuted in baseball with the 2017 set, which included numerous Mike Trout autograph cards.
This hard-signed autograph card with Jumbo patch is a premium card, limited and numbered to just 25 copies, with a few lower numbered parallels.
A valuable Mike Trout card, which isn't easy to find.
2021 Panini Absolute Kaboom! Mike Trout #K2
Panini's popular Kaboom! insert line has some of the most popular and sought-after sports cards in the hobby in recent times – They're generally very rare, and very valuable.
Mike Trout's first Kaboom card came in the 2021 Panini Absolute Baseball set – He was one of twenty players to have a card in the Kaboom subset.
The bold comic-style design of the cards resonate well with collectors, and this is a solid Mike Trout card option.
What Is The Rarest Mike Trout Rookie Card?
The 2011 Playoff Prime Cuts card (#37) is the rarest official Mike Trout rookie card, with just 99 numbered copies printed.
Why Are Mike Trout Rookie Cards So Valuable?
Mike Trout has established himself as one of the best baseball players ever, so his rookie cards are in high demand in the baseball card collecting hobby. He hasn't got a huge selection of different rookie cards, so the high demand, mixed with relatively low supply, pushes the price of the cards up.
Are Mike Trout Cards A Good Investment?
Mike Trout cards are a good investment for baseball card collectors, because of his status in baseball, certain cards of his should do well over time – His key prospect and rookie cards, and some of his key later cards, like those listed above, should keep high demand and value in the future.
What Is The Most Expensive Mike Trout Autograph Card?
The most valuable and desirable Mike Trout autograph card is the 2009 Bowman Chrome Draft Pick and Prospects card (#BDPP89). The hard-signed autographed card is the top pick of all Mike Trout baseball cards, as we see with most players' first Bowman Chrome auto card in the hobby.