One of the best players that tennis has ever seen, Rafael Nadal has enjoyed a hugely successful career.
At one point, Nadal held the record for the most Grand Slam title wins, with 22 majors, before the record was broken by rival Novak Djokovic.
Despite competing with fellow greats, like Djokovic and Roger Federer, he's won every Grand Slam title at least two times, but it's the French Open that he's dominated over his career – He's without doubt the greatest clay court player that the game has ever seen, with 14 French Open titles, and a record 39-game winning streak at the competition.
Rafael Nadal has established himself as a sporting great, and his tennis cards have seen attention from collectors as a result.
Starting in 2003, his tennis card releases were inconsistent across his career, with small production numbers, but there are good options from brands like NetPro and Ace.
The guide below takes a look at the most valuable Nadal tennis cards from his first few years.
What Are The Best Rafael Nadal Tennis Cards To Collect?
2003 NetPro Rafael Nadal Rookie Card #70
Starting with one of Rafael Nadal's rookie cards, the 2003 NetPro card is a mainstream release, showing a very young looking Nadal as well as his full name 'Rafeal Nadal-Parera' and his nationality.
Despite it being one of very few Nadal rookie cards, it's very affordable and not too hard to get hold of.
2003 NetPro International Series Rafael Nadal Rookie Card #77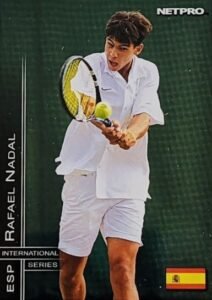 Another Rafael Nadal rookie card featuring a very young and fresh-faced image of the star, the 2003 NetPro International Series card is another early card that can be picked up for a reasonable price.
2003 NetPro Elite 2000 Rafael Nadal #19
Rafael Nadal was part of a star name checklist for the 2003 NetPro Elite 20-card factory set.
The regular version is limited to 2,000 copies, and a lot more valuable than the two cards listed above, but the big value is found in the Glossy parallel (#G19), which is limited to 100 copies.
2003 NetPro Elite Star International Series Rafael Nadal #19
The 2003 NetPro Elite Star International Series card has a unique looking design, which features two of the same image of Nadal in both color and non-color, but seems to work well, making for a nice-looking card.
Limited to 500 copies, it was part of the factory set release that came after the main International Series product, and it's not the easiest to find.
2005 Ace Authentic Debut Edition Rafael Nadal #53
The 2005 Ace Authentic Debut Edition Rafael Nadal card is one of the few of his early cards to feature an image of him mid-shot.
The base card holds decent value, and for collectors who want a tougher chase, there's also a Gold parallel, which has his name and nationality in gold foil.
2005 Ace Authentic Signature Moments Rafael Nadal Auto #SM-5
Rafael Nadal card collectors got their first autograph options in sets released during 2005 – This Ace Authentic Signature Moments card was one of the key choices.
The landscape card features the appealing foil sticker signature, which isn't quite the same as an on-card autograph, but it's still desirable and contributes to the high value of this one.
There's also a separate match-worn jersey patch card, which has an almost identical design, but with the patch instead of the autograph, however, it's not worth as much as the signed card.
2005 Ace Authentic Signature Series Rafael Nadal Auto #7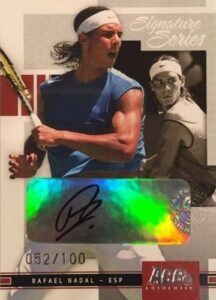 The most significant autograph Rafael Nadal card from 2005 is this Ace Authentic Signature Series card.
Like the Signature Moments card above, it has a nice design, with the main feature being the foil sticker autograph, but something that sets this Signature Series card apart is the serial-numbering on the front, with just 100 copies.
There's a separate match-worn jersey patch card for this one as well, which isn't worth as much as this autographed version.
2005 Sports Illustrated For Kids Rafael Nadal #520
Although they were once seen as a bit of an oddball release for sports cards, Sports Illustrated cards are now often popular options for top athletes.
Rafael Nadal has this SI offering from 2005, showing him in action on his favored clay surface.
It's very hard to find these in top condition, because they come as part of perforated sheets, so separating them by hand leaves little chance of achieving a PSA or BGS 10 grade for the individual card – For that reason, there's a big premium on those that are in good enough condition to be given top grade.
2006 Ace Authentic Center Court Stars Rafael Nadal Auto #CC-17
Another nice-looking Rafael Nadal autograph option comes from 2006 Ace Authentic with this Center Court Stars card.
It's another valuable and popular option, with the appeal of the foil sticker signature being a big contributor to its high value.
It also has a separate, but less expensive, match-worn jersey patch card.
2006 Ace Authentic Grand Slam Materials Rafael Nadal, Andy Roddick, Roger Federer Patch #GS-2
The 2006 Ace Authentic Grand Slam Materials card offers collectors something different, but highly-desirable, featuring Rafael Nadal alongside fellow Tennis great and rival Roger Federer, and the 2003 US Open champion, Andy Roddick.
Nadal has numerous dual autograph and material cards across his career, and this one is one of the first.
The match-worn material patch for each player makes for a classy and appealing card, which isn't easy to find, and holds good value.
2006 Ace Authentic Heroes And Legends Rafael Nadal Auto #65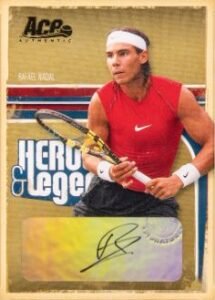 Another Rafael Nadal autographed card comes from 2006 Ace Authentic Heroes And Legends. There is also a rarer gold parallel version for this card, worth slightly more than the regular base version.
2006 Ace Authentic Top Seeds Rafael Nadal Auto #TS-6
The 2006 Ace Authentic Tops Seeds autographed Rafael Nadal card offers collectors another landscape design, with the foil sticker autograph featured.
It's a simple, but classy-looking design, and another popular and valuable early Nadal option among collectors. There's a match-worn jersey alternative, which replaces the autograph with a material patch – It's worth much less than the auto card, so it's one for collectors with a smaller budget.