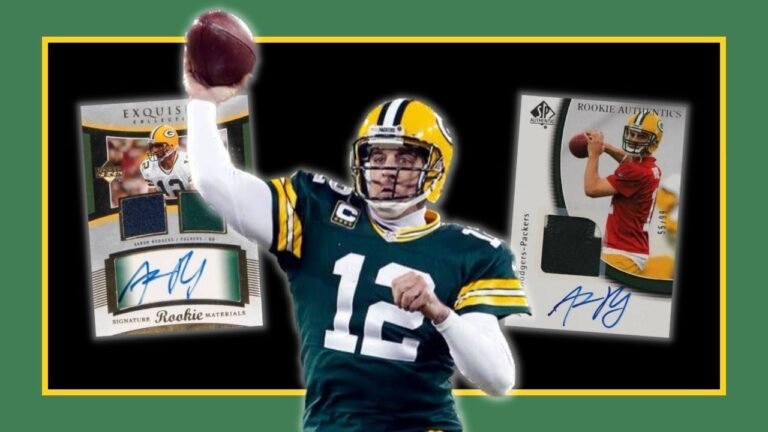 Although he's not quite at the level of players like Tom Brady and Joe Montana, Aaron Rodgers is one of the NFL's top quarterbacks of all-time.
The 4-time NFL MVP has enjoyed a successful career, with the majority of his playing days spent with the Green Bay Packers.
In my opinion, the best Rodgers rookie card is his 2005 SP Authentic Autograph Patch card, which is also the most valuable option.
His success and popularity has been reflected in the football card collecting hobby, after an initial slow start for his rookie cards, values have increased over time, and some of his top cards are now worth a big amount.
Collectors have plenty of options for an Aaron Rodgers rookie card, with 43 unique base cards from 2005, the season he made his debut as backup to the legendary Brett Favre.
With so many rookie cards to choose from, there's something for all budgets. There's no shortage of high-end options, with many featuring either an autograph or material patch piece, and in some cases both.
So, what are the most valuable Aaron Rodgers rookie cards? The list below details the 10 top options, all of which feature an autograph.
The Top Aaron Rodgers Rookie Cards
2005 SP Authentic Aaron Rodgers Rookie Card Auto Patch #252
The 2005 SP Authentic Aaron Rodgers autograph patch rookie card is the most valuable of all his rookies, and it ticks all the boxes – The hard-signed autograph, with game-worn material patch, and print run of 99 copies, all serial numbered, makes for a high-end and desirable card.
If you can find this premium card, expect to pay a lot for it.
2005 Exquisite Collection Aaron Rodgers Rookie Card Auto Patch #106
Exquisite was the king of ultra-premium cards from the mid 2000s till 2010, and while the high-end cards from the brand are popular, the first football release wasn't as strong as those that followed after, in terms of design – The signature isn't hard signed, which takes a little bit away from the appeal.
Despite that, the 2005 Exquisite Aaron Rodgers auto patch rookie card is still highly sought-after, and it's numbered to just 199 copies, so it sells for big money.
2005 Ultimate Collection Aaron Rodgers Rookie Card Auto #242
Another high-end option, and one of the key Aaron Rodgers rookie cards comes from the 2005 Ultimate Collection, with a classy design and the high-appeal of the large on-card signature.
It's limited and numbered to 99 copies, which contributes to its high-value on the secondary market, if you can find one.
2005 Playoff Contenders Aaron Rodgers Rookie Card Auto #101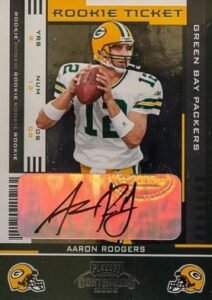 Without doubt, one of the most popular and significant Aaron Rodgers rookie cards is this 2005 Playoff Contenders autographed card.
The rookie ticket design and brand is a staple of the football card hobby, and it helps add to the appeal of this card.
Although this one isn't serial numbered, the print run was revealed to be 530 copies, which is much more plentiful than his similar high-end cards, but that doesn't seem to matter for collectors, who are willing to pay a high price for it.
2005 Bowman Chrome Aaron Rodgers Rookie Card Auto #221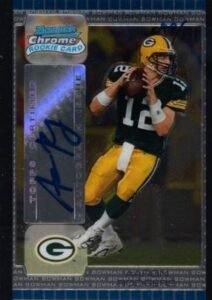 The 2005 Bowman Chrome Aaron Rodgers autographed rookie card is a solid option for collectors, and offers something different, with hand-numbered cards.
It features a vertical sticker autograph, which doesn't quite have the appeal of a hard-signed autograph, but it's still an appealing and popular Rodgers rookie card option.
The base card is limited to 199 copies, and there are also multiple lower-numbered parallels, which offer a tougher chase.
2005 Finest Aaron Rodgers Rookie Card Auto #151
The 2005 Finest Aaron Rodgers auto rookie card has a few things going for it – Firstly, the Finest brand prestige, but also a unique design, with the image of Rodgers surrounded by a bullseye-styled card design.
There are 299 copies of this one, which is higher than any of his other autographed rookie cards, but surprisingly no Refractor parallels, which are usually a popular feature of Finest products.
2005 SPx Aaron Rodgers Rookie Card Auto Patch #223
The 2005 SPx Aaron Rodgers auto patch card has a higher print run than its counterparts on the list, with 250 numbered copies.
Its classy design is somewhat let down by the sticker autograph, but it's still a valuable high-end option – Collectors can look out for the Gold Spectrum parallel as well, which is limited to just 25 copies.
2005 Bowman's Best Aaron Rodgers Rookie Card Auto #129
A slightly unusual angled design features on this 2005 Bowman's Best Aaron Rodgers rookie card, which results in a lop-sided foil sticker autograph – Not necessarily the greatest design, but the staple brand of Bowman's Best perhaps makes up for it.
Another autographed option, albeit not hard-signed, and with a print run of 199 – It's still a valuable card.
2005 Upper Deck Foundations Aaron Rodgers Rookie Card Auto #260
Next is an entry from 2005 Foundations, an Upper Deck brand from the early 2000s – It's another autographed Aaron Rodgers rookie card option with a limited print run, serial-numbered to 175 copies.
Again, it features a sticker autograph rather than on-card, but the clear sticker looks better than the foil sticker we've seen on similar cards.
2005 Topps Pristine Aaron Rodgers Rookie Card Auto #146
The 2005 Pristine set marked the end of the short-lived Topps brand – Aaron Rodgers has yet another foil-stickered autograph rookie card from the set, with a print run of just 100 copies.
Unusually, Topps opted for just a first name initial rather than the full name, to show 'A. Rodgers' on the right side of the card.
When Was Aaron Rodgers' Rookie Season?
Aaron Rodgers' rookie season was the 2005 NFL season – He was selected as the 24th pick by the Green Bay Packers in the 2005 NFL Draft.
What Is The Most Valuable Aaron Rodgers Rookie Card?
The most valuable Aaron Rodgers rookie card is the 2005 SP Authentic Autograph Patch (#252) card – The card features a hard-signed autograph, game-worn material patch, and print-run of just 99 copies, which all contribute to its high value and popularity.
How Many Aaron Rodgers Rookie Cards Are There?
There are 43 different Aaron Rodgers base rookie cards, released from various card manufacturers in football card products throughout the 2005 season, which was his debut year in the NFL.