Jalen Green came into the NBA with expectation, after being selected as the 2nd overall pick in the 2021 NBA Draft by the Houston Rockets.
It's fair to say Green had a rookie season of two halves, it started with some highly underwhelming and disappointing performances, but ended strong – Green turned things around and seemed to get up to speed with the demands of the NBA.
It's not unusual for score-first shooting guards to need time to adjust to NBA quality defenders, and the strong end to his rookie season gives Jalen Green fans hope that he can live up to expectations.
His resurgence during his rookie season was enough for Jalen Green to be named in the 2021-22 NBA All-Rookie Team, alongside the likes of Cade Cunningham, Scottie Barnes and Evan Mobley.
Jalen Green's rookie cards have gained some attention in the basketball card hobby – With Panini at the helm for NBA cards, there are plenty of options for collectors who are looking for Green's rookies, with a variety of rarity and values.
I've taken a look at some of the best Jalen Green rookie cards to collect, including a very popular insert, in no particular order.
The Best Jalen Green Rookie Cards
2021-22 Panini Prizm Jalen Green #306
Panini Prizm cards are a go-to, every year, for collectors looking for rookie cards, as one of the biggest NBA releases of the year – The chromium cards resonate well in the hobby, and the 2021-22 Prizm Jalen Green rookie card is one of his most popular.
The base card is an entry-level option for collectors, in terms of value, because of its mass-production. However, Prizm cards do also come with a plethora of parallels, with varying scarcity, with the rarer ones being potentially worth big money.
The parallels are a big appeal for collectors – the wide choice of colored refractors, with different prints runs, means there's something for every budget.
2021-22 Panini Donruss Rated Rookie Jalen Green #209
Another popular NBA yearly release, Panini Donruss NBA is probably best known for its Rated Rookie line.
In the 2021-22 set, Jalen Green features as one of the standout first-year names as a Rated Rookie – It's another popular and highly sought-after rookie card.
The base card can be picked up relatively easily, and is more of an entry-level option for collectors, but there's also numerous rarer, and more valuable parallels.
2021-22 Panini NBA Hoops Jalen Green #218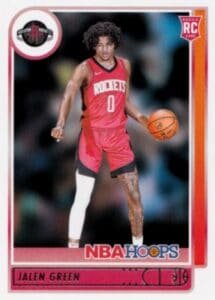 The Panini NBA hoops set was one of the earliest NBA releases for 2021-22, it includes another popular Jalen Green rookie card option.
The card features an image of Green in the red Houston Rockets uniform, in action with the ball. The frame of the card is a classic looking NBA Hoops border design. It's a decent looking card which collectors seem to like.
The base card comes with numerous parallels, varying in scarcity, which are more valuable.
2021-22 Panini Court Kings Jalen Green #71
The artistic style of the Panini Court Kings cards offer something different for collectors.
The 2021-22 Panini Court Kings set includes four RC choices for every player, including Jalen Green, starting with the 'Rookies I' card (pictured above), which is the most common, with 'Rookies II' and 'Rookies III', with the rarest being the 'Rookies IV' card – All 4 cards have a different design.
There are no parallels to the 4 base cards in this set, which is a little unusual with modern sports card releases.
2021-22 Panini Crown Royale Jalen Green #79
With a card design that we've become accustomed to seeing from the Panini Crown Royale sets, this Jalen Green rookie card also offers a different kind of option for collectors, with the distinctive die-cut crown shape on the card.
While it's not as popular as most of the cards on this list, it's relatively hard to get hold of and holds decent value.
There's an array of more limited crystal parallels, which are worth more than the base card.
2021-22 Panini Crown Royale Kaboom! Jalen Green #22
Kaboom! cards need little introduction from collectors who've been in the sports card hobby for a while – They're a very popular line, which are often hard to get hold of and highly valuable.
This Jalen Green insert from the Panini Crown Royale set is one of his most popular and valuable rookie cards.
The bold, comic book style design resonates well with collectors – It's a nice option for those looking for a higher end Jalen green rookie.
The Best Jalen Green Autographed Rookie Cards
2021-22 Panini Contenders Rookie Ticket Jalen Green #102
The 2021-22 Panini Contenders set includes some of the most popular Jalen Green rookie cards, and this Rookie Ticket auto card has big appeal.
The popular ticket style card will hold value anyway, but the addition of the hard-signed autograph really adds to the value – It's one of Green's most popular and sought-after auto rookie cards.
It comes with a few rarer, and more valuable parallels, and there's also an image variation version of the card, which can be identified by the white 'V' on the back of the card, which also has parallels.
2021-22 Panini NBA Hoops Art Signatures #JGR
Only 6 players feature on a Hoops Art Signatures card in the 2021-22 NBA Hoops set, and Jalen Green features on 2 of them – one being this one, and the other being a dual signature card with Luka Doncic.
While the dual card with Doncic is worth a lot more right now (largely because it features Doncic), I've included this one, of just Green, on the list, because it comes first in the set, and it's a better option for a collector looking for a Jalen Green rookie card – You'll pay a lot less, and you'll still get the Jalen Green signature.
The on-card signature is the big appeal with this card, and it's not easy to get hold of.
2021-22 Panini Immaculate Collection Collegiate Rookie Jalen Green Patch Auto #24
Panini Immaculate is one of the premium basketball card brands.
The 2021-22 Collegiate set features this high-end Jalen Green RPA card. As it's a Collegiate set, it features Green for the NBA G League.
The card features a jersey patch, and a hard-signed autograph, which gives it huge appeal and value. The base card is limited to just 15 copies, with an array of limited parallels – It's a rare card which holds big value.
2021-22 Panini National Treasures Rookie Jalen Green Patch Auto #107
This one is for collectors looking for Jalen Green rookie cards at the highest-end of value. Panini National Treasures cards are usually near the top of the list for premium card releases.
This is one of Jalen Green's most expensive rookie cards. The finish to the card is high quality and it has the hard-signed signature, jersey patch and limited print run of just 99 that gives it even more value.
It does come with a few limited parallels, which hold even more value, like the /75 NBA 75th anniversary parallel, which is pictured above.
When Was Jalen Green's Rookie Season?
Jalen Green's rookie season was the 2021-22 season –  In the 2021 NBA Draft, the Houston Rockets drafted him with the 2nd overall pick.