After playing college football at Alabama, Jaylen Waddle was selected as the sixth overall pick in the 2021 NFL Draft, by the Miami Dolphins.
Waddle was reunited with his college quarterback, Tua Tagovailoa, and it didn't take long for him to establish himself as one of the league's premier Wide Receivers.
Football card collectors have plenty of choice when it comes to Jaylen Waddle rookie cards, as expected with top rookies in modern times.
In my opinion, the best Jaylen Waddle rookie card is his 2021 Panini National Treasures Rookie Patch Autograph card.
Waddle's rookie cards were released in Panini football products during the course of his rookie season in 2021, with varying levels of rarity and value.
The list below details the top and key Jaylen Waddle rookie cards, listed in no particular order.
What Are The Best Jaylen Waddle Rookie Cards?
2021 Panini Prizm Jaylen Waddle Rookie Card #338
Usually the brand of choice when it comes to affordable chrome rookie cards in the hobby, the 2021 Prizm Jaylen Waddle rookie card is a solid option.
The big appeal, and tougher, more valuable chase for collectors is found in the big rainbow of Prizm parallels, which are always popular.
2021 Panini Donruss Optic Jaylen Waddle Rookie Card #208
This one has the same layout as the regular Donruss base rookie card, but with some key differences – The main one being the chromium stock.
Panini also opted for a different image of Waddle on the Optic card.
The Optic Rated Rookie cards offer collectors a solid chrome option, on a smaller budget.
There are a lot of different parallel options for this card as well, with some of the low-numbered versions holding much bigger values.
2021 Panini Select Jaylen Waddle Rookie Card #48, #148, #248 & #348
Operating with a tiered structure that has become synonymous with Panini Select, we see four unique base Jaylen Waddle cards in the 2021 Select set, which get rarer as they appear in the checklist.
The first is the Concourse card (#48, pictured above), through to the last which is the Base Field Level card (#348) – Technically speaking, the Concourse card takes the RC tag from the set.
Select also offers something beyond the usual offering of chrome based football products, with a large parallel rainbow that includes die-cuts and patterns which go beyond standard colors.
All four base cards have their own set of parallels.
2021 Panini Certified Jaylen Waddle Rookie Card #108
The 2021 Certified Jaylen Waddle rookie card is one that is relatively premium, but isn't hugely valuable relative to his other rookies.
It's got a foil stock, which adds a visual appeal, and it's also numbered to 399 copies, making it relatively scarce, and tougher to find compared to many of his other base rookie cards.
It comes with numerous lower-numbered parallels, which hold more value.
2021 Panini Gold Standard Jaylen Waddle Rookie Card #113
Gold Standard is known for cards made on bright foil stock – Their shiny gold designs stand out and offer collectors something a bit different.
The big appeal of the 2021 Gold Standard Jaylen Waddle card is that it's limited and numbered to 99 copies, making it one of his rarest base first-year cards.
There are some lower-numbered parallels which hold even more value.
2021 Panini Flawless Jaylen Waddle Rookie Card #106
The rarest Jaylen Waddle rookie card, with just 20 numbered copies, and a few lower-numbered parallels, the 2021 Flawless card comes with an embedded ruby gem.
A high-end option, which is tough to find, makes it one for collectors with a bigger budget.
2021 Panini Contenders Rookie Ticket Jaylen Waddle Rookie Card Auto #106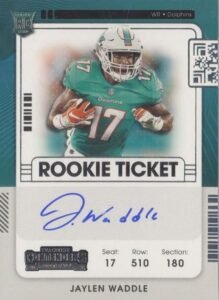 A long-time favorite in the football card hobby, Contenders rookie cards are easily recognizable, with defining features, like the ticket style design.
It's the on-card autograph that gives this Jaylen Waddle rookie card its appeal and value.
There are numerous parallel options for collectors too.
2021 Panini Immaculate Collection Jaylen Waddle Rookie Card Patch Auto #113
Firmly in the category of super-premium, but not quite National Treasures level, this 2021 Immaculate Collection rookie patch autograph Jaylen Waddle card is the next best thing.
The high-end features include the hard-signed signature, patch piece and limited print run of 99 copies. The acetate stock also gives it a bit of a different look and feel to other similar options.
There are a few parallel options for collectors who want an even tougher chase.
He also has a similar card in the 2021 Immaculate Collection Collegiate set, featuring him in Crimson Tide college colors instead of the Dolphins – That one can be considered his first super-premium RC.
2021 Panini Impeccable Jaylen Waddle Rookie Card Helmet-Patch Auto #113
A high-end and premium card, but not your usual rookie patch autograph, the 2021 Impeccable Elegance card features two pieces of memorabilia, a patch and a piece of helmet. A hard signed autograph and print run of 75 copies caps off a desirable card.
The parallels for this feature different types of material.
2021 Panini National Treasures Jaylen Waddle Rookie Card Patch Auto #163
Of all the premium Jaylen Waddle rookie patch autograph cards, this is the apex.
The 2021 National Treasures Waddle rookie card is the most valuable of all his rookies – It has the features that we're accustomed to seeing from National Treasures football, with an on-card signature, jumbo patch and low print run of 99, with multiple parallel options.
Key First-Year Jaylen Waddle Insert Cards
2021 Panini Absolute Kaboom! Jaylen Waddle #K47
Panini Kaboom! inserts are a popular feature of the yearly football card offering. Released in packs of Absolute, the 2021 Kaboom subset includes this Jaylen Waddle card, which is highly sought-after.
Kaboom card designs are always shiny, bold and comic book-style, which resonates well with collectors, but the high values that they command also come from their rarity – They're very tough to find.
2021 Panini Donruss Downtown! Jaylen Waddle #DT-37
Another very popular insert line, the 2021 Panini Downtown! Jaylen Waddle card has a lot going on, with the Miami Dolphins themed artistic design.
Downtown SSP cards were one of the big chases in the 2021 Donruss football set – It's a valuable Waddle card from his rookie year, which is tough to find.
When Was Jaylen Waddle's Rookie Season?
Jaylen Waddle's rookie season was the 2021 NFL season – He was selected as 6th overall pick by the Miami Dolphins in the 2021 NFL Draft.
What Is The Rarest Jaylen Waddle Base Rookie Card?
The rarest base Jaylen Waddle rookie card is the 2021 Panini Flawless card, which is limited to just 20 numbered copies.
What Is The Most Valuable Jaylen Waddle Base Rookie Card?
The most valuable Jaylen Waddle rookie card is the 2021 Panini National Treasures rookie patch autograph card, which is hard-signed, with a jumbo patch and low print run.