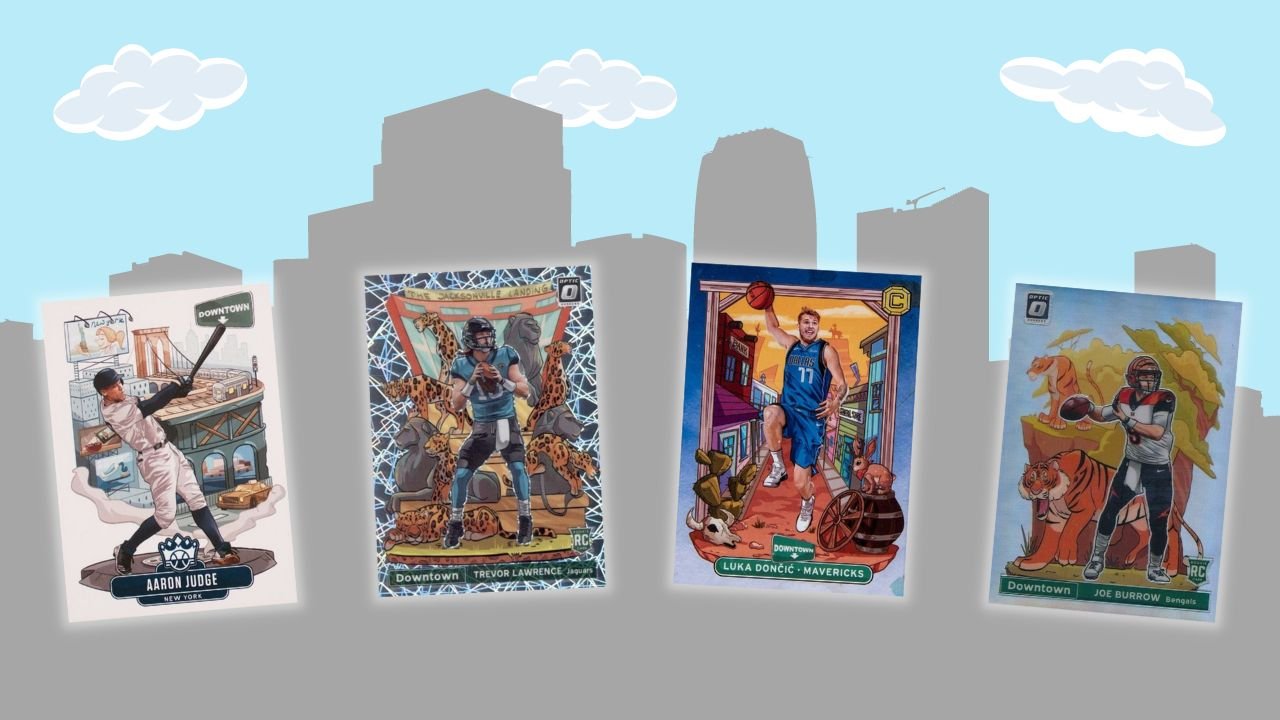 Downtown sports cards are valuable inserts that are released by Panini across a variety of their sports card products.
Panini Downtown is one of the most popular modern sports card insert lines in the hobby.
Downtown has similarities to another popular Panini insert brand, Kaboom – Their colorful, illustrative designs are distinctive, and generally resonate well with collectors.
The guide below takes an in-depth look at the Downtown insert, with everything you need to know about the popular and valuable cards.
A Background To Downtown Cards
Downtowns are valuable SSPs (super short prints), which make them very rare – They're released by Panini as inserts in some of their sports card products.
Downtown cards debuted in Panini basketball card products, and were initially known as 'From Downtown' cards, because they featured long-shooters who were shooting 'from way downtown' – Panini later made it a multi-sport insert line, after introducing them into football and baseball card products. In the meantime, they cut the name to just 'Downtown'.
One thing that has remained consistent with Downtown inserts is their unique style and design – They feature colorful and bold designs, which are cartoon-like and include art that represents either the player themselves, or the team and city they play in.
Downtown subsets generally have a small checklist of star players.
When Did Panini First Release Downtown Cards?
Panini first released Downtown cards (known as From Downtown at the time) in their 2016-17 Studio Basketball product – The insert's checklist featured 20 NBA stars.
The Downtown insert then became a multi-sport line when Panini released them in their 2018 Donruss and Donruss Optic Football products.
Following that, Downtowns were introduced to baseball card collectors in their 2019 Diamond Kings Baseball Set.
What Panini Boxes And Packs Have Downtown Cards?
Knowing which Panini sports card brands to buy for a chance to pull Downtown inserts isn't a straight answer, it can change from year to year across different sports.
Here's a list of the Panini products that have included Downtown cards in previous years:
Basketball Card Products With Downtown:
2016-17: Studio
2017-18: Cornerstones
2018-19: Cornerstones
2019-20: One & One
2020-21: One & One and Prizm Draft Picks
2021-22: One & One
2022-23: One & One
Football Card Products With Downtown:
2018: Donruss and Donruss Optic
2019: Donruss and Donruss Optic
2020: Donruss, Donruss Optic and Chronicles Draft Picks
2021: Donruss and Donruss Optic
2022: Donruss and Donruss Optic
Baseball Card Products With Downtown:
2019: Diamond Kings
2020: Diamond Kings
2021: Diamond Kings
2022: Diamond Kings
2023: DIamond Kings
Does Soccer Have Downtown Cards?
No current Panini soccer card product includes the Downtown insert line, however there is a similar alternative, in their Prizm World Cup releases, which is the National Landmarks insert.
National Landmarks follows the same concept as Downtown, with art illustrations that represent the country the player, that's featured on the card, is from – The designs are very similar to Downtown.
Unlike Downtown, Panini do not release National Landmarks every year, so far they've only been included in Soccer Prizm World Cup sets, which release once every four years.
How Rare Are Downtown Cards?
In the early Downtown sets, the odds of pulling one in a pack were very slim – They were generally the case hit of the product they were in, and very hard to come by, which added to the allure of having one.
While Panini doesn't publish the print runs of Downtown cards, if you got one from the earlier sets they were in, you could almost guarantee it had less than 200 copies, and even 100 for some.
After a few years, it's safe to say Downtown cards became a bit more common, and they even started appearing in retail packs – If you look at PSA's population report for the first basketball downtown subset, from 2016-17 Studio, and compare it to their population report for 2020-21 Prizm Draft Picks, which both have a checklist of 20 names, you will see they have graded over triple the amount for the 2020-21 Downtown NBA cards.
While Downtown cards are still rare, they aren't as rare as they once were, in the first few years of their release.
Do Downtown Cards Have Parallels?
While it hasn't always been the case, Downtown parallels do exist; Panini introduced a Gold Vinyl (1/1) parallel version of Downtown cards in the 2018 Donruss Optic Football set, which they kept for both 2019 and 2020 Donruss Optic as well.
In 2021, Panini expanded the parallel offering in the Donruss Optic Football set, by adding a Black Pandora (/25) version, a Gold (/10), and a White Sparkle (1/1) version, to go with the existing Gold Vinyl (1/1) parallel.
Since introducing parallels to Donruss Optic Football Downtown sets, not every subsequent Downtown release has had parallels, for example the regular Donruss Football sets, plus the basketball and baseball Downtown products didn't include the parallels that Optic Football did.
The parallel versions of Downtown cards hold even more value than the base counterparts, because of their low serial-numbering, and desirability.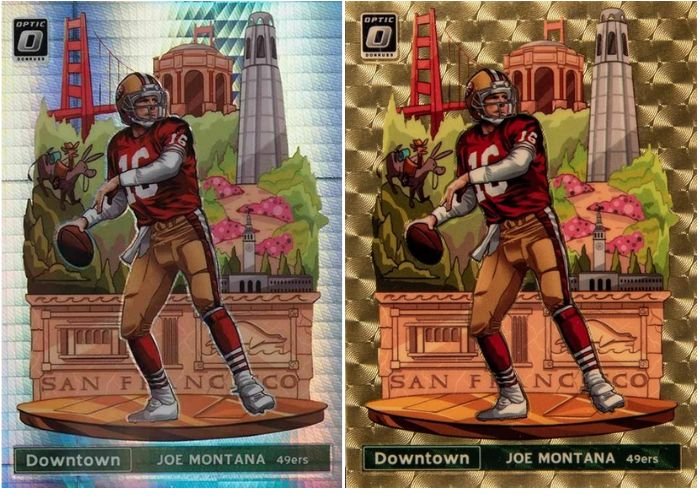 Why Are Downtown Cards So Valuable?
Downtown cards are popular, and generally in high-demand. They're also rare, or extremely rare in the first few year releases – The scarcity of Downtowns, mixed with the fact they're so sought-after, makes them very valuable.
Other factors also determine the value of a particular Downtown card, like the player that's featured – The most popular players will have even higher demand, and higher value.
Then you have numbered parallels, in some cases, which add another layer of rarity and desirability, so increase the value even further.
What Are The Most Popular And Valuable Downtown Cards?
The Downtown cards listed below are the most sought-after and valuable from their respective sports:
The Most Valuable Basketball Downtowns:
2018 Cornerstones Downtown Luka Doncic #11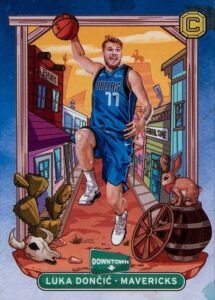 2019 One & One Downtown Zion Williamson #6
2019 One & One Downtown Ja Morant #16
2020 One & One Downtown LaMelo Ball #4
2020 One & One Downtown Anthony Edwards #5
The Most Valuable Football Downtowns:
2018 Donruss Optic Downtown Josh Allen #DT14
2020 Donruss Optic Downtown Tom Brady #DT4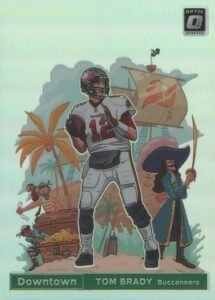 2020 Donruss Optic Downtown Justin Herbert #DT31
2020 Donruss Optic Downtown Joe Burrow #DT40
2021 Donruss Optic Downtown Trevor Lawrence #DT33
The Most Valuable Baseball Downtowns:
2019 Diamond Kings Downtown Shohei Ohtani #D1
2019 Diamond Kings Downtown Mike Trout #D5
2019 Diamond Kings Downtown Aaron Judge #D8
2020 Diamond Kings Downtown Bryce Harper #D19
2020 Diamond Kings Downtown Vladimir Guerrero Jr #D20
Can You Pull A Downtown Card In Retail Packs?
Although it's unlikely, you can get a Downtown card in retail products, although not every Downtown set is in retail boxes.
Downtown has been included in previous Donruss and Donruss Optic Football blaster boxes in the past – Panini will specify, on a box, whether a Downtown card has a chance of being inside.