Originally known by the name Lew Alcindor, before officially changing in the early 70s, Kareem Abdul-Jabbar is one of the greatest players the NBA has ever seen.
His 19-year Hall of Fame career started with the Bucks, and ended with the Lakers – During his career, the giant center became a six-time NBA champion, a six-time NBA MVP, and a two-time finals MVP.
With such a long playing career under his belt, basketball card collectors have no shortage of options for his cards, many of which are very affordable today.
His key and most valuable cards are generally the ones that were released in the early years of his playing career, including his sole rookie card from 1969.
Abdul-Jabbar also has valuable cards from well after his retirement, from high-end basketball sets, which include signatures and patch pieces.
His cards are still highly sought-after, and with such variety of choice, the list below details the top, most valuable Kareem Abdul-Jabbar cards, whether it's for your collection or an investment.
What Is Kareem Abdul-Jabbar's Rookie Card?
1969-70 Topps Lew Alcindor (Kareem Abdul-Jabbar Rookie Card) #25
Kareem Abdul-Jabbar's sole rookie card comes from the 1969-70 Topps set.
While the design isn't the best, the size and tallboy layout work well with showing the size of Abdul-Jabbar, who is featured with an image that takes up most of the space.
It's a card which is prone to damage, because of its size, so higher grades are harder to find, and therefore hold even more value.
Another significant feature of this card is his name, which is listed as Lew Alcindor at the top, because it was released before he officially changed to Kareem Abdul-Jabbar.
Other Valuable Kareem Abdul-Jabbar Cards
1970-71 Topps Lew Alcindor #75
Abdul-Jabbar's second card, from 1970-71 Topps, is similar to his rookie card from a year earlier, with the tallboy format, and an image of Kareem in his green Bucks warm-up top.
The design makes it hard to miss, with the bright background, and the image of a basketball in the corner.
Again, due to its large size and bright colors, it's a card which is prone to wear and tear.
1971-72 Topps Lew Alcindor #100
Kareem Abdul-Jabbar's third card, still as Lew Alcindor, came in the 1971-72 Topps set, and it features a much nicer-looking design than his first two cards, in my opinion.
The colors and image of Abdul-Jabbar work well, and it makes for a good vintage design.
It's a popular card, which holds good value.
1972-73 Topps Kareem Abdul-Jabbar #100
Topps decided to stick with the red background for the 1972-73 set, and it's an iconic basketball card set, which includes the likes of Julius Erving's rookie card.
The design is nice, and it's a popular option for a Kareem Abdul-Jabbar card – It also has added significance and collectability, because it's his first card to have the name Kareem Abdul-Jabbar, instead of Lew Alcindor.
1976-77 Topps Kareem Abdul-Jabbar #100
Topps returned to the tallboy layout of the cards released in the 1976-77 basketball card set.
This oversized Kareem Abdul-Jabbar card is another that is prone to damage, but it's a unique looking card, with the headshot profile image of the center, who was with the Lakers by this point.
1981-82 Topps Kareem Abdul-Jabbar #20
This 1981-82 Topps Kareem Abdul-Jabbar card isn't particularly valuable, or hard to find, but it's a popular one.
The big appeal of this card is the design.
This 1981-82 set was the last basketball card release from Topps until the 1990s, which gives this one a bit more significance.
1986-87 Fleer Kareem Abdul-Jabbar #1
Many collectors will agree that the 1986-87 Fleer set is the most iconic, and arguably the most popular basketball card set of all-time.
In a blockbuster checklist, full of stars, most famously Michael Jordan with his rookie card, Abdul-Jabbar's card is #1 in the set.
The set was well-received, at the time of release, because it came at a time when there were very few major basketball card releases – Its popularity seems to only rise in the hobby today, so it's one of Kareem Abdul-Jabber's key cards.
1986-87 Fleer Stickers Kareem Abdul-Jabbar #1
Inserted at a rate of 1 per pack, the 1986-87 Fleer stickers are rarer than the regular base cards, and they've done well over time, increasing in value and popularity in recent times.
Although the design might not be as iconic as the base cards, with their famous colored border, it's still a nice-looking option.
Stickers are much harder to keep in good condition compared to a cardboard stock card, so it's no surprise that it's extremely tough to find this Abdul-Jabbar sticker in top condition and grades – In fact, a PSA 10 version sold for a huge $266k in 2022, making it one of the most expensive sports cards from the 80s.
1988-89 Fleer Kareem Abdul-Jabbar #64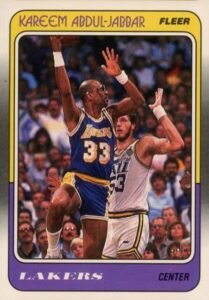 Kareem Abdul-Jabbar's last official NBA card, before his retirement as a player, came in the 1988-89 Fleer set.
The card design definitely matches the era it's from, and it's one that has grown in popularity.
It's not an expensive option, but is a sought-after card.
Autographed Kareem Abdul-Jabbar Cards Released In The 2000s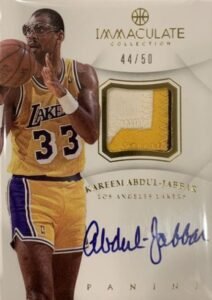 The modern basketball card collecting hobby is used to seeing autograph and patch cards, but that wasn't always the case – In Kareem Abdul-Jabbar's playing days, they were unheard of.
However, the popular high-end cards featuring player signatures and material patches have become a big part of the hobby since the early 2000s. Many of the premium brands, like Panini Flawless, Immaculate and Upper Deck Exquisite for example, include stars of the past in sets.
Abdul-Jabbar has numerous releases with autographs and jersey pieces, which have come well after his retirement, but are some of the most high-end and valuable cards of his.
There is one that came before 2000, and is well-worth mentioning, which is the 1999 Upper Deck Century Legends Epic Signatures (#KA) card. Other key options include 2012-13 Flawless auto patch, 2012-13 Immaculate auto patch (pictured above), as well as the Exquisite signature releases from the early 2000s.
When Was Kareem Abdul-Jabber's Rookie Season?
Kareem Abdul-Jabber's rookie season was the 1969–70 NBA season – He was selected as the 1st overall pick by the Milwaukee Bucks in the 1969 NBA Draft, known at the time as Lew Alcindor.