To many, Serena Williams is the greatest female tennis player that the sport has ever seen – There can be little debate about her standing as one of sports' all-time great athletes.
Williams' record-setting and very successful career have made her a collectable name in the sports card hobby. While tennis cards don't attract the same widespread interest and card values in the hobby as the likes of baseball, football and basketball, among others, she does have some highly sought-after cards, with some huge values relative to other tennis stars.
Her professional debut, as a young teenager, came in 1995, but it wasn't until 1999 that collectors had an opportunity to get a Serena Williams card, and it wasn't until 2003 that she had a traditional tennis card release, from NetPro.
Like any tennis star of her era, Williams doesn't have a huge selection of different cards, that we'd expect from a name of her standing in other sports, but some of her cards are the most valuable tennis cards of all-time.
The list below details Serena Williams' best and most valuable tennis cards to look out for.
What Is Serena Williams' Rookie Card?
2003 NetPro Serena Williams Rookie Card #1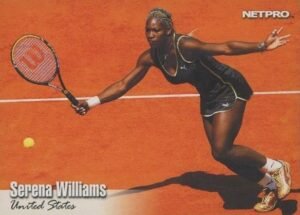 While it's not her first tennis card release, this 2003 NetPro Serena Williams card is generally considered to be her rookie card, because it was the first mainstream card to come as part of a traditional set configuration.
The overproduction of the 2003 NetPro Tennis set overall doesn't help the card's value, despite its significance and Williams' standing in the sport – It's not expensive to buy.
However, the landscape design, with an action shot of Serena on a clay court, makes for a simple, but nice-looking card.
Other Valuable Serena Williams Cards
1999 Sports Illustrated For Kids Serena Williams #814
For the very first Serena Williams card, collectors must go as far back as 1999 for this card, which was issued with a Sports Illustrated For Kids magazine release.
The card came as part of a sheet of nine sports stars, which could be separated from each other with perforated edges. Williams was joined by the likes of Allen Iverson, Randy Moss, Mo Vaugh and others.
The perforated edges and need to separate it from a sheet of others, leaves this card prone to damage, especially when you consider the magazine was aimed for kids – It's not the easiest card to find, and especially not in top condition or grade, so when they do surface in top grades, they hold a premium – It's worth far more than her 2003 rookie card.
2000 Sports Illustrated For Kids Serena Williams, Venus Williams #877
While this 2000 Sports Illustrated card doesn't hold the same significance and prestige as the very first Serena Williams card from the year before, it does offer collectors an early option which features Serena alongside her sister, and fellow tennis star, Venus Williams, both as kids.
Again, like the 1999 Serena Williams SI card, the same applies in terms of perforated edges and condition issues for the one.
2003 NetPro Serena Williams #100
Serena Williams has this short print option from 2003 NetPro, which is tougher to find than her first card from the set. It offers collectors an alternative, with a portrait image of Williams on a grass court.
Despite it being a short print, it still can't be classed as rare, given its large supply.
2003 NetPro Glossy Serena Williams #G1
The 2003 NetPro Glossy release is a factory set version of the main NetPro set, which adds a shiny finish – It features the same design as the main base version.
Production was limited to 5,000 sets, which is low compared to the main 2003 NetPro set, so that scarcity adds big appeal for this one.
2003 NetPro Elite 2000 Serena Williams #2
Another NetPro release from 2003, this Elite 2000 Serena Williams was much more limited than the main NetPro set, which was available in bulk – Elite 2000 was a small and separately packaged release, which was limited to 2,000 copies, making this card tougher to find than her rookie.
The small set features some of the most iconic tennis players of all-time, Serena is included alongside the likes of Novak Djokovic, Rafael Nadal and Roger Federer.
While the regular card is a decent option, the big value is found in the ultra-rare Glossy version (#G2), which is limited to 100 copies.
2003 NetPro International Series Authentic Autographs Serena Williams #2C
NetPro went heavy with Tennis card products in 2003, as they launched into the sport, and the International Series release was another that was tougher to come by than the main set.
The International Series included both autograph and memorabilia cards, and included this signed Serena Williams card, which is her first autographed card.
Limited and numbered to 500 copies, another big plus is that the signature is hard-signed onto the card itself – Both factors contribute to the card's higher value.
2003 NetPro International Series Authentic Match-Worn Apparel Serena Williams #2B
A cheaper alternative to the signed card from the set, this match-worn material patch version from 2003 NetPro International Series offers collectors a more reasonably priced option.
Like the autograph card, it's limited and numbered to 500 copies, and features 2 small patch squares, with material that Williams wore during a match.
2003 NetPro International Series Authentic Match-Worn Apparel Autographs Serena Williams #2A
This card combines the two premium elements of the two other cards from 2003 NetPro International Series set, to make for a high-end and desirable card.
The on-card signature, with 2 small match-worn material patches are the big appeals, but the limited print run of 100 serial-numbered copies is another big plus.
Serena Williams collectors with the biggest budgets should look to this card as a top option – It's Williams' most valuable tennis card, and one of the most valuable tennis cards ever.
2008 Donruss Sports Legends Champions Signatures Serena Williams #C-17
The 2008 Donruss Sports Legends set features sports stars from multiple different sports, and also different eras.
Serena Williams has a few different cards from the set, including parallels and autographs.
This autographed option is the most plentiful of the signed cards, although it's still limited to just 50 copies, plus a few rare parallel options. A sticker is used for the signature, instead of it being hard-signed to the card, which is a downside to the card.
Considering it's one of the more affordable Serena Williams autographs, it's a good option for collectors.
2008 Topps Allen and Ginter Autographs Serena Williams #SJW
Topps released another Serena Williams autograph card in 2008, with this inclusion in the popular Allen & Ginter set, which is predominately a baseball product, but with the addition of some other sports every year.
Allen and Ginter autographs are some of the most sought-after in the hobby, and this Serena Williams card offers something a bit different with its framed design.
It's a tough card to find, and valuable, with just 190 copies (although not numbered), and a red parallel, which is limited to 10 copies.
Williams does also have a material patch card from the set, which offers an alternative to this popular autographed card.
2018 Exquisite Collection Auto Material Upper Deck Employee Exclusive Auto Patch #UD-SW
Serena Williams collectors had to wait until 2018 for a premium Exquisite Collection release, with this Upper Deck Employee Exclusive card.
With a hard-signed autograph, and just 199 copies, it's a valuable and desirable option.
Leaf Serena Williams Autographs From 2016 Onwards
From 2016 onwards, there are numerous Serena Williams autographed and memorabilia cards from Leaf.
Although they aren't cheap, they do offer some of the most affordable Serena Williams signed cards, because of the relatively high supply over multiple sets across different years, it's easy enough to come by at least one of the options – Although the individual cards' print runs are usually low.
What Is The Most Valuable Serena Williams Tennis Card?
The most valuable Serena Williams card is the 2003 NetPro International Series Authentic Match-Worn Apparel Autographs card (#2A). The premium card features an on-card signature, match-worn material patches and has a print run of just 100 serial-numbered copies.
In the highest grade, the card has sold for hundreds of thousands of dollars in the past.