It didn't take Patrick Mahomes long to establish himself as one of the best quarterbacks in the NFL.
Mahomes has already guided the Kansas City Chiefs to 2 Super Bowl titles, in the 2019 and 2022 NFL seasons. He's also a 2 time NFL MVP, on top of holding many NFL records.
For football card collectors, it's already well past the point of getting in on ground floor for Mahomes' rookie cards, they seem to rise with every touchdown pass – But, that's not to say it's too late, with a promising future for more success, one day he could be talked about in the GOAT debate with the likes of Tom Brady and Joe Montana, his rookie cards still have potential for more.
In this article, we're taking a look at the best Patrick Mahomes rookie cards to invest in (though this is just our opinion, and not financial advice), released in Panini football card products across the 2017 season.
It's worth noting the list below doesn't include any specific very low-numbered parallels or autograph cards, like a 1/1 card for example, because only a small percentage of football card collectors have the budget for them, and they're not easy to get hold of.
The cards listed below do have lower-printed, and more valuable parallels, which are potentially a better option if the budget allows for it.
The Best Patrick Mahomes Rookie Cards To Buy
2017 Panini Select Field Level Patrick Mahomes Rookie Card #247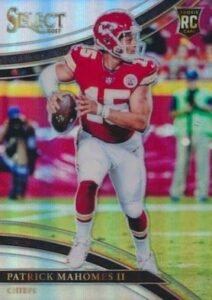 One of the hallmarks of the Panini Select sets, at least in modern times, is the tiered system it uses for base cards. 2017 Select had 3 tiers of base cards.
So Patrick Mahomes had 3 different base Select rookie cards, starting with the most common Concourse level, followed by the Premier level card.
The rarest, and most valuable, is the third tier card, the Field level Patrick Mahomes Panini Select rookie card – Field level cards were the toughest to pull, at just 2 per box.
The Field level card is an attractive long-term Patrick Mahomes rookie card investment. It's priced similarly to popular alternatives like Prizm and Optic, but the supply is significantly less than those flagship chrome brands.
The Field base card also has some even rarer and more valuable parallels, which are an even better option, if your budget allows for it.
2017 Panini Contenders Optic Rookie Ticket Patrick Mahomes Autograph Rookie Card #103
The Rookie Ticket card design has become a popular mainstay of the football card hobby. Collectors have the option of both the Contenders and Contenders Optic version – The latter being a chromium take of the base paper Contenders card.
The signed card is arguably the most iconic Patrick Mahomes autograph rookie card, not a lot can touch it in terms of desirability and popularity.
Although it's not numbered on-card, Panini did confirm that the on-card autograph for Mahomes Optic Rookie Ticket is limited to 300 copies or fewer.
Autographed and RPA Patrick Mahomes Rookie Cards
With so many options for an autographed or auto patch Mahomes rookie, I didn't want to narrow it down to a specific card for this one.
Obviously the initial budget to buy one of these cards is a lot higher than buying his base rookies – Premium rookie cards with signatures and memorabilia patches, particularly the key RPA cards, will cost tens of thousands to buy, so it's not an investment that the regular football card collector can make.
You've got the standard popular auto cards from sets like Prizm, Origins, Optic and Select, which will sell for a premium, but then there's the next level, which is the patch auto cards from super-premium sets like Immaculate, Flawless, and the big one, National Treasures.
Those RPA Mahomes rookies will be at the top of the list when it comes to initial investment, with the standard auto cards, like Prizm and Origins, lower – So I'll keep it generic and say: Invest in any Patrick Mahomes autographed rookie cards, that fits your personal budget.
2017 Donruss Optic Holo Rated Rookie Patrick Mahomes Rookie Card #177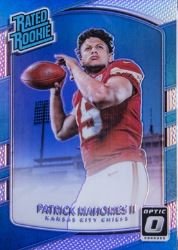 Adding some Chrome shine to the 2017 Donruss design, the 2017 Donruss Optic set features Mahomes in the well-known, and popular Rated Rookie subset.
The base Optic card is a good option in its own right, it's a version of the Rated Rookie card that has added appeal – But, the Holo parallel is Optic's answer to Silver Prizm, adding refractive technology for a very nice looking card, which also adds an extra layer of rarity and value to a base rookie.
While the Optic Holo Patrick Mahomes rookie isn't necessarily cheap to buy now, it's a rare, and desirable card, and isn't as much as buying something like a Mahomes auto rookie – This one should continue to be highly sought-after in the future.
2017 Panini Prizm Silver Patrick Mahomes Rookie Card #269
Panini Prizm Silver cards need little introduction if you've been around the football card hobby a while.
The base Prizm Mahomes rookie is popular, and mass-produced, so it doesn't break the bank to buy – Like Optic Holo though, the Prizm Silver parallel adds a level of rarity which makes it more valuable.
Prizm Silver cards have long been highly desired by most collectors in the hobby, and while they were slightly more common in the 2017 set, it doesn't seem to have affected its price, – It's a card that should remain popular and in-demand going forward.
When Was Patrick Mahomes' Rookie Season?
Patrick Mahomes' rookie season was the 2017 NFL season – He was selected as the 10th overall pick by the Kansas City Chiefs in the 2017 NFL Draft.
What Is The Most Desirable Patrick Mahomes Rookie Card?
The most desirable lower-cost Patrick Mahomes rookie card is the 2017 Panini Prizm Silver card – Prizm Silver cards have long been very popular and desirable in the hobby, and the Mahomes rookie is highly sought-after.
Collectors with the highest budget would probably desire the 2017 National Treasures rookie patch autograph Mahomes rookie card above all others – The card will cost tens of thousands, if not hundreds, but National Treasures RPAs are the holy grail of premium football cards.
Are Patrick Mahomes Rookie Cards Worth Money?
Some Patrick Mahomes rookie cards are worth huge amounts of money.
Modern players have so many different rookie cards, the rarity and value can vary so much these days, but even Mahomes' lower-cost rookie cards are worth hundreds, or even thousands of dollars.
His rarest and most premium rookie cards have sold in the past for hundreds of thousands of dollars, even millions – In fact, his 1/1 2017 National Treasures NFL Shield rookie card (graded 8.5 by Beckett) sold for $4.3m in auction in July 2021.