From Mr. Irrelevant to Mr. Relevant, Brock Purdy went from being the last pick of the 2022 NFL Draft, with little interest in the football card hobby, to leading the way as San Francisco's young star quarterback – With a story arc that Hollywood would be proud of.
Timing can be a massive thing in sport, and it couldn't be more true for Purdy, who got his opportunity, after injuries to Trey Lance and Jimmy Garoppolo, and he made the most of it, which led to the revised nickname of Mr. Relevant.
Going into 2022, Brock Purdy cards were not expected to be anything to shout about, in-fact he wasn't featured in many of the early season releases, but unsurprisingly interest in his rookie cards gained a lot of steam after his breakout for the 49ers.
While his overall rookie card offering is more limited than other top quarterbacks from the 2022 NFL rookie class, Purdy does have a selection of rookie cards, autographs and first-year inserts for collectors to choose from.
The list below details the best Brock Purdy rookie cards to buy and collect, listed in no particular order.
The Best Brock Purdy Base Rookie Cards
2022 Donruss Elite Brock Purdy Rookie Card #185
The 2022 Donruss Elite Brock Purdy rookie card has 999 numbered copies at base level, with multiple additional parallels, which add color, foil and die-cuts, that offer differing price points for collectors.
As one of the earliest sets from the 2022 season, the image doesn't feature Purdy in 49ers uniform, and while the image might let the card down a bit, it's still a solid rookie option.
2022 Panini Certified Brock Purdy Rookie Card #181
A premium brand and a base card numbered to 399 copies, the 2022 Certified Brock Purdy rookie card offers collectors a classy design, with the inclusion of foil.
While the base version is somewhat limited, the array of Mirror parallels takes the total card number much higher, and add color as well as further value.
2022 Panini Black Brock Purdy Rookie Card #200
Unlike the two options listed above, the 2022 Panini Black Brock Purdy base rookie card isn't serial-numbered, but it's still tough to find.
The high-end product has just one base card per box, for a 200-name checklist, so there isn't an abundance of these available.
The parallel offering is also limited, with a handful of low-numbered options.
2022 Panini Prizm Brock Purdy Rookie Card #353
A staple sports card brand for rookie cards, the base 2022 Panini Prizm Purdy rookie is a readily available chromium option, but the product's signature parallel rainbow, with a big selection of different options that add color, and varying price points, is where the value is found.
The collectability of the brand, and the appeal of the parallel options, makes Prizm a good option for Brock Purdy rookie cards.
2022 Panini Mosaic Brock Purdy Rookie Card #367
A brand that follows a similar concept to Prizm, Panini Mosaic offers nice designs and readily available base chromium cards that come with a massive parallel offering, for a tougher and more expensive chase.
The reason why Panini decided to edit Purdy's right foot out of the image featured on the card is anybody's guess, but the 2022 Mosaic Purdy rookie is a popular option.
2022 Donruss Optic Brock Purdy Rookie Card #277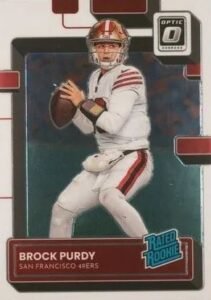 Another chromium base card option, but combined with the timeless appeal of the Rated Rookie brand, the 2022 Dornuss Optic Brock Purdy rookie card is a top mid-tier option.
The numerous parallel options, some numbered, offer the chase element, and more value.
2022 Panini Spectra Brock Purdy Rookie Card #198
The 2022 Spectra Purdy rookie card is similar to the Panini Black card of his, because it's not serial-numbered, but it's not easy to find, and for similar reasons.
The high-end brand focuses on premium autograph and memorabilia hits, so base cards are very much secondary and not abundant in packs.
It's a chrome option with a noticeable more premium and thick card stock than brands like Prizm.
There's also numerous parallel options, which add bold patterns and even more color.
2022 Panini Select Brock Purdy Rookie Card #213 (Club Level), #493 (Field Level)
As always with the Select brand, the 2022 Panini Select football set offers multiple tiered base cards that become progressively rarer.
There are five levels of base cards – Concourse (the most common), Premier Level, Club Level, Suite Level, and finally Field Level (the rarest). Some players are included in more tiers than others, but Purdy has 2 different base cards from the set – Club Level and Field Level.
The Field Level option is the rarer and more valuable of the two cards, but both feature unique designs, with their own large set of parallel options, which hold more value, like the case-hit Zebra Prizms.
2022 Donruss Optic Downtown Brock Purdy XRC #DT-BP
This one isn't considered a traditional rookie card, but the Downtown insert from the 2022 Donruss Optic is one of the key first-year Brock Purdy cards, so I wanted to include it in the list.
The SSP card is one of the tougher unsigned Purdy rookies to come-by, because of its rarity. Downtown's card designs generally resonate well with collectors, and are sought-after cards, so the popularity mixed with scarcity makes for a valuable option.
There are a handful of low-numbered parallels, including a couple of 1-of-1 options – All four parallels hold much more value than the already expensive base version.
The Best Brock Purdy Rookie Autograph Cards
2022 Panini National Treasures Brock Purdy Rookie Patch Auto #200
This card sits firmly on the highest-end of the premium scale – The National Treasures brand carries plenty of clout in the NFL card hobby, and the centerpiece of the product is the Rookie Patch Autograph cards.
This 2022 National Treasures Brock Purdy RPA is for collectors with the biggest budget. The on-card autograph and large material patch, with a base print run of just 99 copies, is what the brand has become known for, and it's no different for this one.
The numerous lower-numbered parallels are even more valuable and tougher to find than the base version.
2022 Donruss Elite Turn of the Century Autographs Brock Purdy #TC-70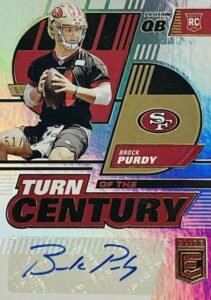 There's a lot going on with the design on the Donruss Elite Turn of the Century Brock Purdy autograph card, and it's also one of the tougher rookie autos of his to find.
The base version is limited and numbered to 99 copies, and there's a limited selection of parallel options that take the total number of cards to 299.
2022 Donruss Optic Rated Rookies Autographs Brock Purdy #277
The Donruss Optic Rated Rookies autographed Brock Purdy card takes the base card design and adds the signature, to give extra appeal – It gives an alternative option to the regular base version, for collectors who want the Rated Rookies brand and have a bit more to spend.
It's one of the more accessible premium autographed Purdy rookies – The selection of numbered parallels add some pop.
2022 Panini Black Rookie Autographs Brock Purdy #200
Another signed card that takes the regular base card design and keeps it the same, with an added autograph, this 2022 Panini Black autograph Brock Purdy rookie card is the most plentiful of his numbered first-year autos.
2022 Panini Spectra Rookie Autographs Brock Purdy #40
The first NFL autograph card to show him in his main 49ers uniform, this 2022 Spectra Rookie Autographs Purdy card is one of the key signed rookie-year options.
The premium brand and low print run of just 99 base copies adds to the desirability, and it also features a nice design.
There are numerous lower-numbered parallels as well.
When Was Brock Purdy's Rookie Season?
Brock Purdy's rookie season was the 2022 NFL Season – He was selected as the 262nd overall pick (last) in the 2022 NFL Draft.