Charles Barkley is a well-known name in both basketball and the card collecting hobby; He was without doubt one of the best NBA players of his era.
Sir Charles was a dominant power forward, despite being undersized in many people's eyes.
His Hall of Fame playing career might lack an NBA Championship title, but he's still a very collectible name in the basketball card hobby, with some strong values.
Collectors have fewer options of autograph and relic cards for Barkley, as you might expect for a basketball star of that era, but he does have a decent selection of valuable cards released across his career and after his retirement.
The list below details the top and most valuable Charles Barkley basketball cards, including his only official rookie card.
What Is Charles Barkley's Rookie Card?
1986-87 Fleer Charles Barkley Rookie Card #7
The one and only official Charles Barkley rookie card comes from one of the most iconic sports card sets of all time, the 1986-87 Fleer Basketball set.
It's without doubt one of the most popular and valuable Charles Barkley cards, which is helped by the significance of the set overall, with the great design.
The set is most known for including the famous Michael Jordan rookie card, but Charles Barkley is another big part of the star-studded checklist.
Despite the high print-runs of the era it's from, this Barkley rookie card is somewhat rare, in relative terms.
Other Key Charles Barkley Cards
1984-85 Star Charles Barkley #202
Although this Star Charles Barkley card came before the 1986 Fleer rookie card, it's not considered an official rookie (technically an XRC), but it is still a popular card of his, which holds good value.
The 1984-85 Star set was released at a time when basketball card collectors were very much deprived of new basketball card products from major manufacturers, so it was well received at the time – That lack of options, from the era, adds to the value of the cards from 1984-85 Star.
1987-88 Fleer Basketball Charles Barkley #9
The 1987-88 Fleer Charles Barkley card isn't in the same league as the Fleer rookie for popularity and value, but it's still a solid option.
It's by no means a rare card, but boxes of 1987-88 Fleer did have a limited print run, so it's relatively hard to come across. The big value is found in the highest grades of this one, PSA 10s, for example, sell for a big premium over a PSA 9.
1992-93 Stadium Club Beam Team Members Only Charles Barkley #15
The Beam Team insert from 1992-93 Stadium Club is one of the most popular basketball card insert sets of the 1990s.
With a 21-man checklist, full of big names, for the insert line with a laser show inspired design, Barkley was one of the players on the list.
Value is found in the Members Only parallel, which were exclusive to a special factory set, with 10,000 copies – The only difference to the base card is a subtle 'Members Only' stamp on the front of the card.
1993-94 Topps Finest Charles Barkley #200
The 1993-94 Topps Finest release was a pivotal moment in the hobby, with the introduction of Finest technology, with the bright colors and distinct designs, which resonated well with collectors.
The base Charles Barkley card from 1993-94 Finest is cheap, and easy to find; The chase is found in the Refractor parallels, which hold a lot more value, and are well sought-after.
1997-98 Skybox Metal Universe Precious Metal Gems Charles Barkley #1
Precious Metal Gems is another very popular and iconic insert line from the 90s, which includes this Charles Barkley gem, from the first release in 1997-98. It's the most valuable Charles Barkley card.
The concept of limited print-runs to create scarcity is commonplace in the hobby in recent times, but it wasn't back when this card was released.
Every player on the PMG checklist in 1997–98 Metal Universe had 100 copies of their card – 90 red copies, and 10 green copies; Both hold high value, but unsurprisingly the green version is worth more.
A couple of the most valuable sports cards of all the 1990s are from this subset, including Kobe Bryant and Michael Jordan's PMG cards, which shows the significance and popularity of the release.
1997-98 Skybox Premium Autographics Charles Barkley Autographs
The introduction of autographed cards in basketball products, during the mid-90s, was a big deal – In 1997-98, they were randomly inserted across Skybox and Fleer products.
Charles Barkley has this significant autograph card from that year, which also came with a Century parallel version, that is limited and hand-numbered to 100 copies, for a tougher and more valuable chase.
Barkley had a similar card in the 1998-99 Skybox set as well, which is worth a similar amount to this 1997-98 card.
1997-98 Upper Deck Game Jerseys Charles Barkley Jersey #GJ1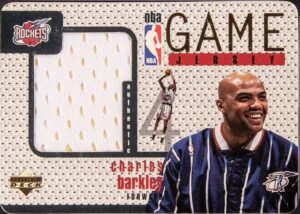 A card that isn't easy to find, given its rarity at the time of release, is the 1997-98 Upper Deck Game Jerseys Charles Barkley card.
The set helped start the jersey patch revolution in the hobby. The big appeal is the jersey piece, which is mixed with rarity, to give this one good value.
1997-98 Skybox E-X2001 Essential Credentials Charles Barkley #17
1997-98 Skybox E-X2001 basketball featured two different Essential Credentials options that paralleled the base set, following on from the successful Credentials parallels from the year earlier.
The Essential Credentials Future and Now parallels, from the 1997-98 set, are some of the most valuable Charles Barkley cards of all-time.
The pink themed Future card is limited to just 64 copies, and the green themed Now card is limited to just 17 copies, so they aren't easy to come by.
Charles Barkley Autographed Cards From 2000 Onwards
Autographed Charles Barkley cards, from more modern times, are among his most valuable, for obvious reasons.
This includes the 1999-00 Fleer Focus Fresh Ink card, which is quite popular because it features Barkley's on-card signature.
From 2018 onwards started releasing Charles Barkley autographs in their high-end basketball card sets, like Flawless, which often include signatures, patch pieces and limited print-runs, to make for highly-valuable and sought-after cards.
When Was Charles Barkley's Rookie Season?
Charles Barkley's rookie season was the 1984-85 NBA season – He was selected as the 5th overall pick by the Philadelphia 76ers in the 1984 NBA Draft.
What Is The Most Valuable Charles Barkley Basketball Card?
The most expensive Charles Barkley card to buy is the 1997-98 Skybox Metal Universe Precious Metal Gems (#1) insert card.
There are two versions of the card, a red version, which has 90 copies, and a green version, which has just 10 copies, and holds more value.
The Precious Metal Gems subset from 1997-98 Skybox Metal Universe is one of the most iconic and popular basketball insert sets of all-time, with some of the most valuable sports cards from the 1990s included.